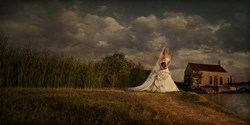 McKinney, TX (PRWEB) January 30, 2014
Bella Donna Chapel is proud to announce that they will soon launch their new photography service called Bella Donna Photography. This service will begin in March 2014.
Bella Donna is partnering with some of the most decorated photographers in the nation. They have won a number of awards, such as WPPI First Place Illustrative, PPA International Photographers of the Year, WPPI Image of the year and PPA International Photographers of the Year.
This photography service is being launched in an effort to provide the Bella Donna Chapel brides with everything they need for their special day. Bella Donna wants to ensure that each of their brides obtains the most elegant and timeless memories possible.
Bella Donna Photography's showroom is located in the seven-story bell tower in McKinney Texas' exclusive Adriatica development. To learn more about this new photography service and to find out how to book a photographer for an upcoming wedding, call 972-836-7718 or visit Bella Donna Chapel's website at http://belladonnachapel.com/.
About the company:
After being dedicated in 2006, Bella Donna Chapel opened its doors to begin holding wedding ceremonies in late 2010. Since then, the chapel has become one of the premier destinations for brides and grooms in the north Texas area. More and more, Bella Donna continues to be chosen as a destination wedding location for couples that live outside of Texas but can't pass up on the chapel's unique beauty for their special day. Featured in such notable media as The New York Times, Wall Street Journal and CNN, it is easy to see why the most popular ceremony dates are booking up a full year in advance.
Management at Bella Donna Chapel is consistently making adjustments to ensure that every bride who gets married here has a smooth and perfect day. Whether a bride has two years or two weeks to plan, the staff is ready to guide her through the process. Those interested can always email or call Bella Donna's staff to see about specific availability and pricing. Additional information can be found by visiting their website at http://belladonnachapel.com/.