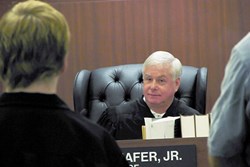 Judge Schafers role in the community for helping troubled teens is important. - Sonny Im
Tarpon Springs, FL (PRWEB) January 31, 2014
Sonny Im is a Tarpon Springs Attorney. Having served as a Judge in Pinellas County, Sonny Im (pronounced M) understands the type of discernment it takes to adjudicate in the local growing Florida community. Schafer began his career as a tax attorney in Clearwater, FL. He worked for various firms as a private practice lawyer, specializing in taxation, estate planning, will and real estate law. He was then appointed to the Circuit Court in December of 2005, where he has served in the probate and juvenile delinquency divisions. Walter L. "Skip" Schafer, Jr. is a judge of the Sixth Judicial Circuit Court in Florida. Having been appointed to this position by then-Governor Jeb Bush in December of 2005. Judge Schafers current term expires on January 5, 2015, but he is eligible to run for re-election on November 4, 2014. Pinellas Lawyer Sonny Im is hosting an open house fundraiser in support of Judge Skip Schafer to be reelected is an opportunity for the public of Pinellas County to support the efforts and expenses of this important campaign. Media inquiries can be made by calling Sonny Im's pinellas county lawyer office at 727-939-8200. Fundraising Venue is located in the law office of Sonny Im and Rick Buchwalter 39780 S. Highway 19 North Tarpon Springs, Florida 34689 on Friday January 31st. Open to the public funds raised benefit Judge Skip Schafers bid for re-election. Venue is located at 39780 Hwy 19 North Tarpon Springs. Benefit open from 6 to 9PM. In addition to entertainment from a live jazz band food and refreshments will be served. Maximum donations accepted will be $500. Please make all checks payable to Campaign for Skip Schafer, Jr.
This Press Release is offered as a client service to Sonny Im and is not a political endorsement.
In accordance with the law, this service is covered as a paid political advertisement, paid for and approved by Judge Schafer Sixth Judicial Circuit Court in Florida.
Image Forward, a digital marketing agency, helps our clients to drive revenue by leveraging and building audience engagement through the use of proprietary tools including a high recognition local SEO directory system (if-Places) containing over 105,000 local business listings & automated social content distribution system (if-Social). The company provides turnkey Internet Presence Management Solutions to improve brand visibility by establishing a local search presence & publishing high value content to social portals.
Link to website:
http://www.ImageForward.com