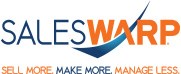 Militello Capital brings a wealth of knowledge, relationships and strategic thought leadership that will be of great value as we continue to grow.
Leesburg, VA (PRWEB) February 02, 2014
Militello Capital has made an investment in SalesWarp located in Baltimore, MD. In 2009, SalesWarp CEO & Founder, David Potts, developed the Omnichannel eCommerce Management System to help retailers manage all digital transactions from one system.
SalesWarp is an ERP for eCommerce Management Software that helps merchants consolidate all eCommerce operations into one complete system. With an easy to use interface and powerful integration tools, retailers can manage all customer, order and product information while simplifying inventory tracking and fulfillment operations across all sales channels, including online stores, marketplaces, retail stores and call centers. This helps single and multi-channel retailers accelerate revenue, improve quality and reduce operating costs. It is the most complete, scalable eCommerce technology available.
"SalesWarp provides merchants of all sizes a competitive advantage," says Matt Brady, Co-Founder and COO of Militello Capital. He continues, "With its expansive list of features, functionality and commercial source code technology, the SalesWarp eCommerce Management Software helps emerging retailers compete with larger, more established competitors."
"We are thrilled that Militello Capital chose SalesWarp to be part of their investment portfolio", says David Potts, CEO and Founder of SalesWarp. "Militello Capital brings a wealth of knowledge, relationships and strategic thought leadership that will be of great value as we continue to grow."
About SalesWarp
SalesWarp, developed by 6th Street Inc., is an ERP for eCommerce management software that helps retailers manage all eCommerce operations from one system. Through powerful automation and integration tools, retailers can easily manage products, orders and customer data while streamlining supplier and inventory management to ensure the delivery of an omni-channel shopping experience. SalesWarp offers both an Enterprise and cloud solution (SalesWarp SPARK) and currently integrates with Volusion, Magento, Demandware, osCommerce, Amazon and eBay. SalesWarp helps retailers increase sales, improve quality and reduce costs.
About Militello Capital
Militello Capital is a Northern Virginia-based private equity investment manager. We've moved beyond Wall Street to a place where ideas matter, people have names and investing is as much about creating opportunity as it is about increasing wealth. Our firm was founded on the principle that true wealth is created in private investments. We offer two distinct alternative investment strategies available exclusively through certified RIAs: deep value commercial real estate and emerging technology venture capital.
Visit http://www.militellocapital.com/ to learn more.
The information contained herein should not be construed as personalized investment advice. Investing in venture capital companies involves some degree of risk and may not be suitable for all investors. Information presented herein is subject to change without notice and should not be considered as a solicitation to buy or sell any security. The companies highlighted above are not necessarily the highest performing investments in the fund, but are noted as purchases made to date. The reader should not assume that investments in the companies identified were or will be profitable.