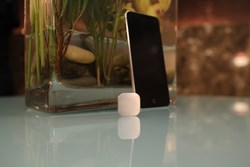 Chicago, IL (PRWEB) January 30, 2014
If the Guiness Book of World Records had a category for smallest iPad mount, the prize would certainly go to the gorgeously designed Neutron S, by Bungajungle. The creation of such a tiny, yet fully functional mount is an amazing accomplishment, and undoubtedly deserves notice.
Bungajungle, a design firm outside of Chicago, recently released a Kickstarter campaign for a mobile device mount that is not only incredibly small, but unbelievably strong. Their goal is $10,000. For a pledge of just $20, you can receive your own Neutron S.
The Neutron S measures a mere 7/8 inch, is a 1/4 inch thin and can be placed anywhere and everywhere that a mobile device can go. The minuscule footprint of the Neutron S makes it extremely attractive to auto makers, builders, airline industries, and general public consumers alike.
The Neutron S is compatible with mobile devices like phones, gps, mp3 players, and e-readers. Amazingly, it can also hold up most tablet PC's.
It works using magnets, which are shielded using Bungajungle's patent pending technology. This means that no magnetism enters the device, protecting it. The use of magnets allows a tiny surface area to achieve a stunning degree of grip. The genius is in the simplicity; no clips, bands, or strings attached.
By the looks of things, Bungajungle's Neutron S is certainly the most qualified to claim its title as World's Smallest Mount, and possibly the most beautiful.
High Resolution Images for Press:
https://www.dropbox.com/sh/j4vpb4i93r0hpdi/4hVGIL2DZ4