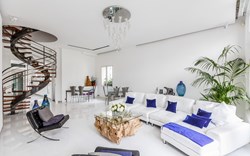 We are honored to be named among the industry's best by Travel + Leisure.
Broomfield, Colorado (PRWEB) February 04, 2014
Time & Place, a premier global concierge vacation rental company, today was named among the Best Villa Rental Agencies by Travel + Leisure. Since 1995, Travel + Leisure has been recognizing the top travel destinations and travel providers. They have five million subscribers worldwide.
The first-time honor from Travel +Leisure coincides with Time & Place reaching the milestone of adding their 50th apartment in Paris, France, surpassing all other global concierge vacation rental companies. The Travel +Leisure distinction not only solidifies Time & Place's reputation as one of the best vacation rental companies, but also as an industry leader.
"We are honored to be named among the industry's best by Travel + Leisure," said Time & Place Founder and President Mitch Willey. "The emphasis we put on quality and value in our apartments, homes, villas and concierge services is a reflection of the attention to detail we give to every facet of a traveler's experience. Moving forward, Time & Place will continue to excel at finding unique accommodations around the world and pairing them with passionate, local, personalized concierge service to create unforgettable memories for our guests."
For more information, please visit: http://www.travelandleisure.com/articles/best-villa-rental-agencies/3.html.
For the past twelve years, Time & Place has provided luxury vacation rentals across Europe and the Americas. Guests enjoy elegant properties without dues or membership. Our concierges deliver exclusive access and ultimate experiences. For discerning travelers, Time & Place provides a unique vacation experience.