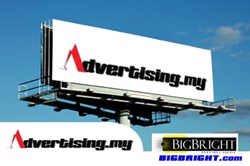 A Malaysia Advertising Industry Insider forum will be created which will form the perfect avenue for signmakers, marketers, advertisers and brand owners alike to hold discussions, talks and any other events which could be of benefit.
Subang Jaya, Selangor (PRWEB) January 31, 2014
Started as an online advertising agency, Advertising.my has grown by leaps and bounds over the past few years where it has expanded and grown to become one of the most preferred and illustrious full-service agency in the Malaysian market while moving aggressively towards other countries in the region.
With more than 15 years in the market, Advertising.my now offers a comprehensive range of outdoor advertising services where it has acquired various media spaces in high traffic locations in major towns, cities and states around the country. In Malaysia alone, Advertising.my offers billboard advertising in all shapes, types and sizes in almost all the major expressways that include the PLUS North-South Expressway, Lebuhraya Damansara-Puchong or LDP Highway and the most popular Federal Highway in the Klang Valley.
In recent years, Advertising.my has ventured into offering more contemporary and modern technologies in billboard advertising especially with the introduction of LED video wall technology which is known to be more efficient, value-for-money and cost-beneficial in every way. Focusing on this technology, Advertising.my has been one of the strongest advocates of LED technology in advertising, harnessing on its benefits and implementing countless projects and campaigns in this field which has since been used by companies and brand owners in every possible market segment and industry.
Riding on this expertise and the technical knowledge, Advertising.my will be expanding its LED-based advertising services to other countries within the Asian region. This is made possible through the launch of new and more energy-efficient products like the new 2014 P10 outdoor LED modules. As such, the new 2014 P10 modules will be installed to be used in outdoor billboards. In order to ensure that the LED modules are able to function and operate reliably, Advertising.my is collaborating with Rishang LED Malaysia, the exclusive distributor of Rishang LED products, a top LED manufacturer from China.
The expansion will see Advertising.my offering more outdoor digital billboard advertising options in Langkawi and Kedah. This was made possible with the recent launch of 100 lightboxes mounted on streetlamps in some of the major and most high-traffic areas of Langkawi Island while acquiring some of the most sought-after outdoor billboard spaces in Alor Setar and major towns in Kedah. Apart from that, Advertising.my will now be offering billboards in airports, most notably at the Skypark Terminal in Subang.
This expansion exercise will involve implementing more avenues for discussion and collaboration between Advertising.my and its customers. A Malaysia Advertising Industry Insider forum will be created which will form the perfect avenue for signmakers, marketers, advertisers and brand owners alike to hold discussions, talks and any other events which could be of benefit. This forum will provide the online space for the related parties to deliberate about strategies, methods, advice and any other related resources that can benefit their programmes or campaigns.
On top of that, a unique and first-of-its-kind Design Forum will be launched at the same time. This forum is dedicated for designers, graphic artists, agencies, marketing service providers and any other interested party who would like to share design tips, information, advice and any other useful knowledge with others within the market.
The new launch will be an ideal channel for all related parties and agencies to source for information and knowledge transfer as there will be resources like tips and techniques on outdoor advertising, guide to effective social media marketing, adoption of new technologies in advertising, mobile and SMS marketing and many more. These articles are written and contributed by industry experts and the highly qualified personnel of Advertising.my which will provide new ideas, insights and contemporary methods to advertisers and brand owners in deriving more effective and impactful campaigns.
To encourage more participation in the new forums and resources, Advertising.my is giving away 100 units of LED T8 tubes and 5000 LED modules for its members. These products are sponsored by Rishang LED Malaysia and are very efficient and energy-saving modules. Members will stand a chance to win these modules through collaboration and partnership with Advertising.my under this launch initiative.