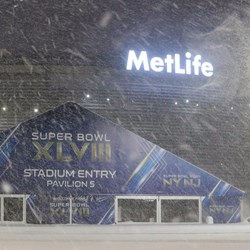 New York, NY (PRWEB) January 30, 2014
It is a time of year notorious for east coast snowstorms, however, Arena Americas (formerly Karl's Event Services) is hard at work in New York and New Jersey preparing for a number of Super Bowl projects and Mercedes-Benz Fashion Week. Arena team members have been working through more than a foot of snowfall to prepare for events at Lincoln Center, Bryant Park, and MetLife Stadium, the home of Super Bowl XLVIII.
Arena Americas is one of the only companies in the nation that supplies engineered snow loaded clearspan structures designed to shed snow and withstand high wind speeds, perfect for the conditions New York and New Jersey have been experiencing. The tents will be used for pre-game tailgating and game time events.
Following the Super Bowl, New York will attract thousands of guests for Fashion Week. Arena Americas is supplying numerous tents in Lincoln Center for this semi-annual event.
Jon Tabeling, Arena Americas' VP & GM Northeast Region said, "This will be our tenth year supporting both the Super Bowl and Mercedes-Benz Fashion Week and we couldn't be more thrilled to be a part of these historic events. Our snow loaded clearspan structures along with our dedicated crews make events like these possible in cold weather climates year round."
Arena Americas is a division of the Arena Group, a global leading provider of temporary structures, seating, design and overlay services to support delivery of live events such as the London Olympics, Wimbledon, and Abu Dhabi Formula 1 racing.
Arena Americas has been in the US since 1966 and supports a variety of events including some of the most prestigious sporting, corporate and private events in the country.