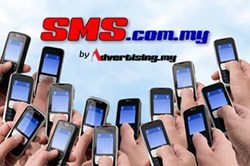 The platform used to facilitate the sending of Bulk SMS is independent in terms of language and characters which means that clients can now design their messages in all types of ways that include Chinese
Kuala Lumpur (PRWEB) January 31, 2014
Advertising.my is one of the pioneering agencies that have been involved in digital branding and marketing for many years with a strong focus in SMS marketing and the related services, strategies and methods.
Over the past few years, Advertising.my has been aggressively expanding the reach and offerings through the use of Malaysia bulk SMS for its clients and partners in Malaysia. Advertising.my's reputation and corporate image in the digital advertising segment is among the top in Malaysia where the agency offers above, below and through-the-line advertising services to many large corporations, public companies as well as in the small-and-medium industries. Apart from this, Advertising.my partners and collaborates with some of the top and leading online agencies in the implementation of campaigns, events and other activities.
As part of this expansion, brand owners and advertisers will now be able to enjoy wider reach of markets through the use of Bulk SMS service which will be covering countries in the South East Asia region.
This is made possible through the acquisition of a new and more powerful SMS gateway managed by Advertising.my that facilitates SMS marketing in various countries. Instead of being limited to Malaysian customers, brand owners can now send SMS to customers in countries like Indonesia, the Philippines, Thailand, Singapore and Vietnam as well as to Australia.
The launch will include a golf trip to Cameron Highlands, Malaysia. Principal partners and clients will be offered an all-expense trip to Melbourne at one of the top golf resorts there. The trip will convey how SMS marketing in the South East Asia will be effective, impactful and beneficial for their brands and products and how they can use this option in delivering more meaningful messages. Advertising.my will be top brands like Honda who will be sponsoring the transport vehicles during the trip.
Clients who use the new bulk SMS option will be provided with their own account in which they can customize and send the messages from their own platforms. Training on how to use the system will be conducted to ensure the smooth implementation of the system. From there, clients will be able to enjoy the convenience of sending the SMS as and when they are required with an automatic payment module as well.
Through the client's application, there are several functionalities which they will enjoy which includes real-time reporting and analysis. Where needed, reports can be generated very quickly and can be customized to be analyzed and studied in terms of effectiveness, success rates and other data.
The platform used to facilitate the sending of Bulk SMS is independent in terms of language and characters which means that clients can now design their messages in all types of ways that include bulk SMS in Chinese and Arabic characters. Where necessary or required, Advertising.my will assist the clients on creating the most appropriate content to be delivered to potential market segments in the other countries while consultation and advice on understanding the markets are offered as well. This will give the advertiser a better understanding and grasp of foreign market segments and how the consumers there will react to the SMS sent by the advertiser so that expenditure is justified.
As part of this new programme, Advertising.my will be offering a wide range of benefits and promotions for its clients. Apart from the training and hands-on practical sessions, an marketing ebook on making money with SMS will be given at no cost. This guide book provides very useful and relevant information and is an excellent resource for the clients to learn about how to use SMS effectively. It includes strategies of sending SMS to various market segments, timing and scheduling and tips on how to create an effective message, among others. Apart from that, there are frequently-asked questions, experts' advice and case studies to be learnt as well.
To encourage more participation in the new SMS option, advertisers will enjoy added privileges like bulk discounts, first-time introductory package rates and referral incentives while there will be 100 units of LED T8 tubes to be given away. This is sponsored by Rishang LED Malaysia, a collaborative partner of Advertising.my.