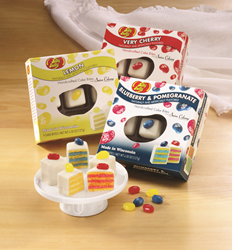 Bite into one of our new Jelly Belly Cake Bites and it will taste exactly like a Jelly Belly!
Monroe, Wisconsin (PRWEB) March 27, 2014
Perk up any day with color, sweetness and fun that Jelly Belly® treats can deliver. Three new Jelly Belly products are now available at swisscolony.com that are festive for National Jelly Bean Day on April 22, as well as Spring birthday parties and Easter celebrations.
Jelly Belly® Cake Bites ($19.95) debuted at the 2013 Candy Show and nominated for Best New Innovative Product. Two delicious traditions come together in one scrumptious morsel. The Swiss Colony is famous for Petits Fours and this gift assortment will wow with three, 9-piece boxes each filled with Very Cherry, Lemon, and Blueberry & Pomegranate cakes. At center stage, each Swiss crème coated mini-cake is layered with a tasty crème to match the Jelly Belly jelly bean on top.
Jelly Belly® jelly beans are known for their amazing flavors and the bakery team at Swiss Colony has matched the impact those flavors have on taste buds.
"Bite into one of our new Jelly Belly Cake Bites and it will taste exactly like a Jelly Belly," says Becky Henke, VP of the Food Division at Swiss Colony.
The Jelly Belly® Easter Basket ($29.95) will impress those who love a variety of flavors. There's a carrot-shaped bag filled with tangerine-flavored Jelly Belly jelly beans, a mixed bag of candy corn and chocolates, the new Very Cherry Jelly Belly Cake Bites, buttered popcorn-flavored Jelly Belly jelly beans in a movie themed popcorn box, and more!
A sparkly gift fit for the sweetest princess, the Disney Enchanted Jelly Belly® Mix ($14.95) includes Bubble Gum, Berry Blue, Very Cherry, Blueberry and Sour Apple flavored Jelly Belly jelly beans. It's a treasure trove of sweet goodness sure to please even the most discriminating palate.
To see the entire line up of Jelly Belly® products available at The Swiss Colony, along with the company's traditional and novelty offerings including baked goods, chocolates, candies, meats and cheeses, shop online at http://www.swisscolony.com.
Jelly Belly® is the registered trademark of Jelly Belly Candy Company, Fairfield, CA.
About The Swiss Colony
The Swiss Colony is a family-owned Wisconsin company that has been creating food gifts for more than 88 years. The company insists on the highest quality ingredients for a large selection of festively packaged gifts for every occasion. Exclusive recipes developed by European Master Bakers and hand-decorated novelties like no other are just two of the reasons customers include The Swiss Colony as part of their holiday traditions year after year.
About The Jelly Belly® Candy Company
The family owned candy manufacturer has been in operation since 1898 and is currently run by the fourth, fifth and sixth generations of the candy empire. Known for decades for making candy corn, the creation of Jelly Belly® jelly beans brought the company worldwide prominence after Ronald Reagan was seen eating them on the presidential campaign trail in 1980. Jelly Belly jelly beans were soon being given to international diplomats and became the first jelly bean in space. The company currently makes 50 Official Flavors, the largest selection on the market, plus 100 other gourmet candies including gummies, chocolate covered treats, and seasonal sweets for the major holidays. Headquartered in Fairfield, California, the company operates three plants in Illinois, California, and Thailand.