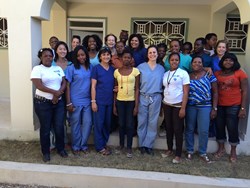 (PRWEB) January 31, 2014
This month across the United States, women's health advocacy groups have been reaching out to promote messages of cervical cancer awareness. Cervical cancer was once the leading cause of cancer death for women in the United States, but early detection through Pap smears has significantly decreased mortality rates over the past 40 years (CDC). Although the U.S. has made tremendous strides, cervical cancer still claims the lives of 275,000 women worldwide each year (who.org). Nearly 90% of those deaths occur in low resource settings, such as rural, remote areas of the country of El Salvador (iarc.org).
In 1997, Miriam Cremer was a medical student visiting the small village of Arcatao in Northern El Salvador when she witnessed a local woman bleed to death as a result of advanced cervical cancer. The woman, and nearly all of the rural villagers, had never been screened for cervical cancer. In low resource settings such as Arcatao, Pap tests are neither affordable nor possible due to lack of basic amenities and specialized training. Dr. Cremer refused to accept the tragedy of women dying from a treatable and preventable cancer.
Eight years after her time in Arcatao, Dr. Cremer founded Basic Health International with a mission to eradicate cervical cancer in Latin America and the Caribbean by bringing screening and treatment methods to rural communities. In collaboration with the Salvadoran Ministry of Health (MOH), BHI trains local healthcare providers in low-tech screening and treatment methods while engaging health promoters in outreach education to promote cervical cancer screening amongst rural women. Utilizing Visual Inspection with Acetic Acid (VIA) to detect precancerous cells, nurses and physicians are able to provide immediate cryotherapy treatment in a single visit approach. Recently, BHI and the Salvadoran MOH have embarked on a forward-thinking screening program utilizing the low-cost HPV DNA test, careHPV, to more accurately identify women at-risk for cervical cancer and prompt appropriate treatment. Since 2006, BHI has screened over 25,000 women for cervical cancer, in addition to training more than 125 health care providers across the Latin American region.
BHI's model has become a standard of cervical cancer prevention programming, and they have shared their expertise through education and training of groups in nearby countries of Guatemala, the Dominican Republic, and Haiti. Dr. Cremer and Basic Health International continue to improve upon their model by conducting research and providing policy guidance to identify and implement the most accurate and cost-effective cervical cancer screening and treatment methods available for rural communities.