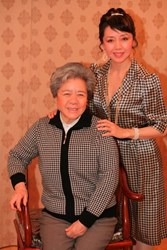 "I am so pleased the Copper Heeler is more readily available in America," said Dr. Chunyan Teng. "Anyone in pain from arthritis or other body pain should give it a try because it works."
New York, NY (PRWEB) January 31, 2014
Noted New York doctor Chunyan Teng believes an expanded US presence for the Original Copper Heeler will make deep inroads in fighting the war on pain for her patients who suffer the ravages of arthritis and other disorders that rob them of energy and free movement.
"The Copper Heeler is easy to use and my patients don't have any resistance to it," said noted acupuncturist Dr. Teng from her Manhattan office. "I had an 89-year-old old patient and suggested he try it and he liked it so much he bought two pair."
Acupuncture started in China 5,000 years ago and now is an accepted medical option for millions of people around the globe. Dr. Teng has been helping her patients in the war against pain for almost 30 years but added a new wrinkle to her acupuncture practice when a patient told her about a product that changed her life forever – The Original Copper Heeler®™. http://www.theoriginalcopperheelerusa.com
The 100 percent jewelry-grade heeler relieved the pain of arthritis and other joint disorder for her patients in and around New York City. The Heeler has been on the market since 2007 from London but opened an American website and office in 2014.
The doctor's mother Yunfang Qua, was suffering from the withering pain of arthritis and she gave the heeler to her mother. Three days later the senior citizen started to feel better.
"My mother's rheumatoid arthritis was so bad she could not walk up and down the stairs," Teng said. "The Copper Heeler has changed her life forever." Teng was so impressed she shared the product with her sister, herself and her husband.
It is now part of Teng's arsenal and she has purchased dozens of Copper Heelers for her patients. "The Copper Heeler keeps my feet warm in the winter and you don't even feel them in your shoes," said Teng. "I love them and so do my patients who have tried them. They are well-priced and they work."
Teng arrived in the US in 1990 and started up her acupuncture business then. She has offices in New York City and Hastings-on-Hudson in Westchester. She said some of her patients who use the Heeler report pain subsiding within three days of use. Many who had become homebound and needing round the clock care are now able to get around on their own and resume a normal lifestyle. Some have even gone back to exercise, something they were forced to stop years ago because of pain and stiffness.
"I would recommend this to anyone who is in pain to give the copper heeler a try," she said. It's not expensive, it's not invasive and my patients who have tried it love it. I really like something simple that helps people. It's easy to use they don't have any resistance."
Teng has even done several case studies of patients who have started to use the Heeler and found that people who use the product get better and within a few days to a few weeks report vast improvement.
The inventor is Anthony Andrews who has been making custom-made footwear for over 50 years and believed he could develop something to help his customers. "I was seeing so many patients who were suffering the pain of arthritis I was passionate in finding a drug-free, cost effective remedy. That's what we did and now we want to share this with America."
The Original Copper Heeler®™ insole is made of jewelry-grade copper in England and is available in all sizes it can be placed directly into the shoe or attached to a separate insole which can be moved from shoe to shoe. Priced at $49.50 a pair, plus $3.95 shipping. The company offers a full refund if not completely satisfied.
More information, customer reviews or to order, visit http://www.theoriginalcopperheelerusa.com or call 1-800-374-5514. The Original Copper Heeler insole. Winning the war on pain one pair at a time.
About the Original Copper Heeler insole
The Original Copper Heeler insole is the leading copper insole in the world and is designed to fit into any footwear either by fastening the heeler with Velcro or by attaching it to a portable insole that can be moved from one pair of shoes to another. The Heeler is made of jewelry-grade copper in England and shipped to the US for its growing customer base. For more information on the Heeler, plus customer reviews and other useful information please visit us at http://www.theoriginalcopperheelerusa.com. Read our blog, like us on Facebook and look for us on Twitter.