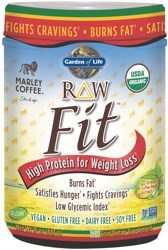 In this great future, you can't forget your past.
(PRWEB) January 31, 2014
Garden of Life s a recognized leader and innovator of whole food nutritional supplements based on science and proven research, while focusing on green practices and organic, non-GMO, sustainably made products. Garden of Life's top selling weight loss protein powder, Raw Fit, is now available with Marley brand organic, fair trade coffee as a flavoring.
Gail Bowman, owner of Healthy Vitamins stated, "The new Marley Coffee flavor of Garden of Life's Raw Fit is a very exciting addition to this great product line. People love Raw Fit, and it is very popular because it is vegan, organic, non-GMO, raw, gluten free, dairy free and soy free, and it is a great addition to a weight loss program. It is a very popular product. I think people will love the Marley Coffee flavor, because it is coffee, and because it continues the commitment to fair trade organic products."
Marley Coffee is an international gourmet coffee company founded by Rohan Marley. Marley Coffee strives to support communities and the environment through organic, sustainable and ethical practices. When speaking about organic, sustainable practices, Bob Marley said, "In this great future, you can't forget your past."
According to the Environmental Protection Agency's (EPA) website, "Garden of Life has been leading the way in the Natural Products Industry with company-wide green initiatives since 2006. Each year, the company has purchased 100 percent green wind power in the form of third-party certified renewable energy certificates (RECs). As a Green Power Partner in 2011, Garden of Life used 648 MWh of electricity and purchased wind RECs to offset the usage. "
"At Garden of Life, our mission is to empower extraordinary health, and this includes taking our carbon footprint very seriously," said President Brian Ray. "Purchasing Green Power Certificates is an important part of our overall commitment to the environment, along with using recyclable materials in our office, in our cafes, and in our printed materials."
Healthy-Vitamins.me is an internet retail store specializing in whole food supplements and a member of the NON-GMO Project. Gail Bowman has owned and operated Healthy Vitamins for more than 10 years. "We are very happy to have a relationship with a company like Garden of Life, where integrity and a commitment to their customers and the environment are a very high priority," said Ms Bowman.