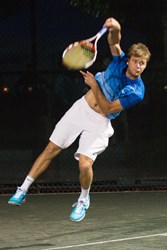 Boca Raton, FL (PRWEB) February 01, 2014
"We welcome Ryan in his new role with Boca West Country Club," stated Jay DiPietro, President and General Manager. "We look forward to working with him to enhance our tennis programs offered at the Club and believe this partnership will strengthen not only our brand but also a renewed interest in the sport of Tennis."
Ryan recently moved to South Florida from Texas to train at the USTA National Tennis Center in Boca Raton. His team consists of – his father, Pat Harrison, Jay Berger, USTA Head of Men's Player Development, Tom Gullikson, former highly ranked Tour Professional and Davis Cup captain (1994-1999), Brad Gilbert (former #4) and Pat Etcheberry, a world-renowned tennis fitness trainer. Ryan will also be seen on the courts at Boca West when his schedule permits along with occasional appearances at their tennis events throughout the year.
"Making the move from Texas to Florida was a big step for my career and the people and facilities at Boca West Country Club have made the transition even better. I am excited to be part of this community," said Ryan.
Harrison ranked among top ten juniors on the ITF 18-and-under world rankings and was the highest ranked American Junior player in the world by age 15. Winning his first main draw ATP match in Houston that same year, he became the 3rd youngest player since 1990 to win an ATP Main Draw match – just behind current superstars, Richard Gasquet and Rafael Nadal. At the same ATP event, he also became the 10th youngest player in history to play an ATP Main Draw match by winning his way through qualifying.
In 2012, this American star continued to move up the ATP Tour World rankings, reaching a career high #43. He reached three more ATP World Tour singles semifinals and won his second ATP World Tour Doubles Title in Atlanta with Matt Ebden. Harrison was selected to represent USA in the Davis Cup as well as the Olympics and he partnered with his younger brother, Christian, for the first time at the US Open where they made an exciting run to the Quarterfinals beating some of the best teams in the world.
About Boca West Country Club
Boca West Country Club, one of the Nation's largest private equity owned clubs, spans 1,400 acres of lush tropical landscaping with an array of magnificent residences including town homes, patio homes, villas, garden apartments and single-family homes. The Club's 54 private villages are bordered by four championship golf courses, 31 har tru tennis courts, waterways and wooded areas as well as a state-of-the-art fitness center, aquatics and spa complex. Boca West is home to over 3,300 families and is located in Boca Raton, Florida, a city internationally renowned for its commitment to exceptional residential, commercial and resort planning and historical preservation.
Boca West Country Club is currently ranked the #1 Private Residential Country Club in the Country and #1 Private Club, of all types, in the State of Florida, was recently awarded the prestigious Distinguished Emerald Club Award and received the 2013 USTA Outstanding Tennis Facility Award. Boca West has played host to numerous tennis exhibitions throughout the years that have featured former and current world-class players such as Chris Evert, Jennifer Capriati, Martina Navratilova, the Bryan Brothers, Quillermo Vilas, Stan Smith, Owen Davidson, Jimmy Arias, Aaron Krickstein, Sam Querry, Tom Gullickson, Fred Stolle and Jan-Michael Gambil. Boca West has also been privileged to host the USTA French Open Wild Card Tournament for the past several years. Several of the following ATP and WTA players have accomplished many things in recent years: John Isner, Jesse Levine, Donald Young, Ryan Sweeting, Ryan Harrison, Melanie Oudin, Coco Vandeweghe, Madison Brengle, Christina McHale and Irina Falconi to name a few. They are also very pleased to have the USTA and Chris Evert Academy conduct training sessions at Boca West when courts are available. They host a number of National Junior Tournaments throughout the year as well, that members are encouraged to come out to see our country's next generation of rising tennis stars! http://www.bocawestcc.org