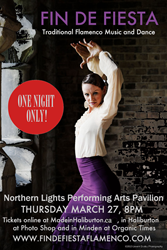 "Simply Awesome!" - The Kitchener-Waterloo Record
(PRWEB) February 25, 2014
MadeInHaliburton.ca is proud to offer tickets for FIN DE FIESTA FLAMENCO presents their latest production "MALA YERBA NUNCA MUERE". Come and experience a Spanish Fiesta inspired evening of entertainment without leaving Canadian soil at the Northern Lights Performing Arts Pavilion in Haliburton Village on Thursday March 27th at 8 pm. Note that this event is one night only.
FIN DE FIESTA FLAMENCO brings Spanish inspiration to Canadian soil. This esteemed flamenco collective is made up of five musicians and dancers that divide their time between Canada and Seville, Spain. The name FIN DE FIESTA translates to "End of the Party", a reference to the open jam session that occurs at the end of a traditional flamenco show in Spain. It is during the fin de fiesta that the true improvisational and spirited nature of flamenco shows itself, and it is this lively spirit – unpredictable and unrestrained – that inspires our work.
"Simply Awesome!" - The Kitchener-Waterloo Record
FIN DE FIESTA FLAMENCO is currently touring their latest production, Mala Yerba Nunca Muere ("Wild Flowers Never Die"). The name is taken from an old Spanish idiom that describes the capacity to endure. At the core of this show is an exploration of flamenco's capacity to invoke striking contrasts, from delicate beauty to a fierceness that borders on carnal. From refined to raw, Mala Yerba Nunca Muere incorporates the traditional and the contemporary to create an electrifying portrait of an art form that shatters traditional stereotypes of beauty. They will perform in Haliburton for one night only.
Click here for reviews, photos and video previews, of Fin De Fiesta Flamenco.
FIN DE FIESTA FLAMENCO is made up of guitarist Dennis Duffin, singer Tamar Ilana, dancers Lia Grainger and Alexandra Talbot, and percussionist Miguel Medina.
$20 general admission, $18 students/seniors HST included.
Tickets at MadeinHaliburton.ca and in person in Minden at Organic Times, 134 Bobcaygeon Road, and in Haliburton at Photo Shop, 192 Highland Street.