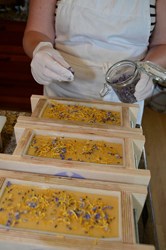 "We are often asked about common soap terms, by both our retailers and customers at markets. Hopefully, this brief overview will help consumers better understand the differences and find what they need." - Sandra Klein, CEO and chief soapmaker
Half Moon Bay, CA (PRWEB) January 30, 2014
French-milled or glycerine soap? Hot or cold-process or "melt and pour"? What about essential oils versus fragrance oils? Liquid or solid and what is a beauty bar, anyway? And what does natural versus organic mean? These are all choices that we are confronted with in the soap aisle. And there is little regulation that protects consumers or ensures standards. The FDA doesn't even require ingredient labeling of soap, although those who do label are required to be honest. Following are definitions of common soap types and what it means for your skin.
First, what is soap? Soap is defined as "a substance used with water for washing and cleaning, made of a compound of natural oils or fats with a strong alkali to initiate saponification, and typically having scent and coloring added. And what about those "beauty bars" and brands like Dove and Dial that you find in grocery and drug stores? They are not soap and not labeled as soap. They are detergents, with mostly or completely synthetic ingredients. Do you really want to use that on your face or sensitive skin?
Within real soaps, there are further classifications that are frequently asked
French-milled - also called rebatched soap - refers to labor-intensive process whereby the initial soap from cold-process/ traditional soap is ground up, mixed with some additional oil, water and/or fragrances, heated and then poured back into a form to let cool and cure. This was initially done to recycle "bad" soap batches. Advocates often say that those process allows for some delicate oils and ingredients that would not survive the initial saponification process to be added back in. However, this has become a widely used marketing term and most "french milled' soaps are not only not from France but also are not enhanced with any meaningful amount of special ingredients, especially not if you are getting them for under $10 a bar.
Glycerin Soap: This is a very misleading term as all authentic soap contains glycerine,which is a natural bi-product of the vegetable oils and fats in the soap-making process. "Pure" glycerine soap was heavily marketed some years ago as gentle and moisturizing and the translucency appeals to some consumers associating it with purity. What most people refer to as glycerin soap is a gel-like transparent soap. Transparent soap goes through a process where the soap is continuously heated with sugar and alcohol until the mixture reaches a clear, jelly-like consistency. The alcohol prevents the soap from crystalizing so the soap remains clear. Although some soap is labeled as 100% glycerin soap, soap cannot be made with only glycerin. Transparent glycerin soaps contain alcohol along with the usual mixture needed to make all soap; oils, water and lye. Many transparent glycerin soaps contain synthetic foaming and wetting agents to prevent the hydroscopic (water attracting) qualities that result in soap deterioration. While some glycerin can feel very silky on the skin, these gel-like glycerin soap can be drying over the long term as they attract moisture from the lower layers of the skin and the added alcohol in the soap is drying as well.
Castille (Olive oil) soap is another commonly used term. Most soap labeled as castille or olive oil soap is not actually 100% from olive oil. By itself, olive oil would make for very greasy soap, with extremely long cure times. Generally, it is one ingredient that is balanced with other oils with specific properties that consumers like, for example coconut (for lathering), castor (for lather stability) and other oils. As stated above, the law does not require soaps to be labeled with ingredients so consumers are often mislead about their "olive oil soaps." This does not mean the bar is bad, but most consumers prefer to buy products form companies that honestly label their products.
Cold-process is the traditional method for making soap,originally mixing ash with water for an alkali base and mixing that with tallow or vegetable oils to spark the transformation of the oils to soap. Over the centuries, we have migrated to more nourishing vegetable oils,or organic vegetable oils like those used by Route One Pumpkins. Each soapmaker combines various oils to achieve the specific results, but common oils are palm, coconut, olive, castor and sunflower for the base, and especially nourishing oils like pumpkin seed, jojoba, almond oil, and meadowfoam added for additional benefits. Some consumers prefer to avoid palm oil due to concerns over orangutan habitat in Malaysia. Route One Pumpkins sources organic, certified sustainable palm from Colombia, but continues to reduce the amount and does offer some palm-free options. Cold-process soaps will need to cure anywhere from 2 weeks to several months, depending on the oils used and how quickly they harden.
These soaps can be scented with essential oils (which are extracted from real plants, often with aroma-therapeutic benefits) or fragrance oils, which are synthetic but are allowed to be referred to as natural. One easy way to know, when you are buying bulk soap that doesn't show full ingredient panel is if it smells like pomegranate, cherry,strawberry, etc. it is most likely a fragrance oil and there is no essential oil from these fruits. Many real essential oils like Sandlewood and Jasmine have gotten to be so expensive that soapmakers have turned to synthetics to manage costs. If it isn't labeled as an essential oil, there is a good chance it isn't real.
Organic: Unlike the term "natural" which has no legal definition, the NOP or National Organic program offers two alternatives for labeling products organic. 1) If the product contains 95%+ of organic ingredients by weight it can qualify under the USDA (green seal) organic program and 2) if it contains 75%+ organic ingredients by weight it can qualify for the "Made with organic..." claim on the front panel. If the product contains less than 75%, then it cannot legally claim organic on the front panel, but can list organic ingredients in the ingredient panel. Either way, to be certified, the product needs to be produced in a certified facility, which incurs a lot of cost and paperwork and isn't really feasibly for a small soapmaker. Also, because soap is made with a lot of water, it is difficult to get to the 95% level unless you fully substitute water with something like organic coconut water or milk. At Route One Pumpkins, nearly all ingredients are certified organic, but the facility is not certified, so the products are not labeled organic except within the ingredient listing and in compliance with the NOP.