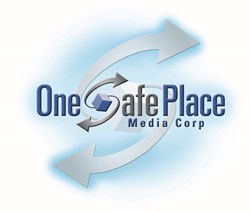 "Companies choose One Safe Place to help protect their mission-critical data and systems, and the U.S.-EU Safe Harbor certification demonstrates our commitment to the highest level of global security standards," said Scott Scheffe, CTO, One Safe Place
Dallas, TX (PRWEB) January 31, 2014
One Safe Place Media Corp, one of the country's leading offsite data protection and Online Business Backup companies, has successfully completed the U.S.-EU Safe Harbor Framework certification process from the United States Department of Commerce. The U.S.-EU Safe Harbor program is a voluntary certification and ensures the company is complying with the international data privacy guidelines established by the European Union in 1998.
"Companies choose One Safe Place Media Corp to help protect their mission-critical data and systems, and the U.S.-EU Safe Harbor certification demonstrates our commitment to the highest level of global security and data protection standards," said Scott Scheffe, chief technology officer of One Safe Place. "Many of our customers have global locations and transfer data daily from international locations. The Safe Harbor framework provides a means to satisfy the European Union's legal requirement that adequate data protections be afforded to personal information transferred to the United States."
The U.S-EU Safe Harbor Framework was developed to bridge the gap between the U.S. Department of Commerce and the European Commission's policies on data protection and privacy. It enables U.S. organizations to comply with the 1998 European Commission's data protection direction, and confirms that safe harbor certified companies provide "adequate" privacy protection under EU legislation.
Delivering Best-in-Class Data Protection
More than 50 of the Fortune 1000 and businesses across 53 countries trust One Safe Place to protect one of their most important assets – their data. Founded in 1985, One Safe Place now counts more than 25 years' experience and thousands of successful disaster recovery drills for clients as reasons for its continued growth.
About One Safe Place Media Corp: One Safe Place Media Corp (OSP), based in Dallas, TX, is an offsite data protection company, specializing in Online Data Backups, Offsite Tape Storage, Video Tape & Film Archiving, and Certified Media Destruction. Founded in 1985, the company began offering the very best in offsite tape storage more than two decades ago and then added video tape and film archiving. In 1997, One Safe Place became one of the first companies in North America to provide online server backups. One Safe Place protects more than 50 of the Fortune 1000 and businesses worldwide. For more information visit us at http://www.OneSafePlace.com