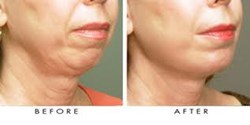 Fat transfer to the face is truly revolutionary in the cosmetic industry.
Las Vegas, NV (PRWEB) January 31, 2014
"Getting old sucks," exclaims Maria Sanchez, a patient of MyShape Lipo who recently underwent fat transfer to the face. "I can't believe this fat that I've hated all these years is now helping me to look younger."
Aging is an inevitable fact of life that all of us who are lucky enough will undoubtedly struggle with. As the decades pass, gravity rears its nasty head and begins showing its effects as early as the 30's. By the time we get to our 40's and 50's the effects of the aging process begin to accelerate and become much more obvious.
Grey hair, thinning skin, wrinkles, dark circles under the eyes and loss of volume in the face and hands are a few of the more common issues the baby boomers are facing. The anti aging industry is huge and there are no signs that it is slowing. In fact, as the economy improves more people are becoming very unhappy with the effects of stress on their body and face.
MyShape Lipo is using their patients own fat to combat the signs of aging in the face. That's right, they are taking their patients own fat and transferring it to areas of the face that have lost volume from normal aging. This will help to alleviate the "sunken" look that is a tell tale sign of aging. In addition to restoring volume, it also reduces wrinkles and leaves the patient with vibrant glowing skin.
The fat can be injected to nearly any part of the face to revive a youthful look. The common areas of the face include: under the eyes, cheeks, lips, smile lines (nasolabial fold), chin, jaw line and forehead. When you compare pictures of individuals to when they were 10 years younger, you can really start to see the significant difference in volume of the face.
"Fat transfer to the face is truly revolutionary in the cosmetic industry," says Trevor Schmidt PA-C, the Liposuction Specialist at MyShape Lipo. "I'm amazed at the incredible changes that are now possible through simply injecting fat into the face. I'm not quite ready for this myself, but will definitely take advantage of this in the future."
"I never knew this was even possible," says Maria, "but I am so happy with the results. My skin has a healthy glow to it and now I have rosy full cheeks with no bags under my eyes. I seriously look 10 years younger."
MyShape Lipo is a liposuction specialty clinic located in Las Vegas, NV where patients fly in from around the world for their specialty services. For a complimentary "Body Shape Analysis," and to find out how fat transfer to the face can make you look younger, call today 702-818-5476.