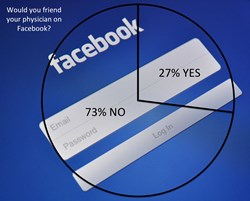 Would you friend your physician on Facebook?
Cambridge, MA (PRWEB) January 31, 2014
InCrowd, the only provider of real time market intelligence for the pharmaceutical industry, today announced results from a health consumer survey focused on patient engagement. Social media can be an important tool in the patient engagement process, providing channels to connect and communicate with other health consumers. Recent patient engagement research indicates health consumers are looking for ways to connect more closely and easily with their health care team. Could social media be an answer?
As part of the Pathways to Patient Engagement series, InCrowd asked health consumers if they would friend their personal physician on Facebook. While a small group thought it could help enhance communication, 73% of those surveyed stated they would not friend their physician on Facebook. Worries related to privacy and big brother issues were common concerns shared by the health consumers surveyed.
"As InCrowd has completed more research in the patient engagement space we've found a very distinct line being drawn around social media," says Kathleen Poulos, Co-Founder and CMO of InCrowd. "While health consumers are looking for easier and faster ways to interact with their health team, they still want to ensure the privacy of their personal health information."
Over the coming months, InCrowd will continue to explore patient engagement and the role of social media in healthcare. Kathleen will be sharing InCrowd data during Pathways to Patient Engagement webinars scheduled for this coming March and May. In June Kathleen will be presenting global patient engagement findings at Doctors 2.0 & You. Join InCrowd and others in the healthcare community as we work together to create the right tools and environment to enhance patient engagement.
About InCrowd
InCrowd's on-demand platform provides direct and immediate access to Crowds of screened and targeted healthcare professionals. Crowd queries are fast, easy and specialized for the healthcare industry. Micro surveys facilitate fast response rates, while specialized crowdsourcing provides answers within hours, even minutes. InCrowd is the only company offering healthcare focused real time market research. For more information, visit InCrowd, Inc.