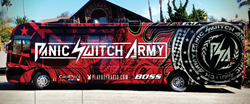 San Clemente, California (PRWEB) January 31, 2014
Chase Authentics, the Official Trackside Vendor of NASCAR, and Panic Switch Army, the Southern California based gasoline-fueled apparel brand, are teaming up in 2014 to provide NASCAR fans with a trackside retail option featuring new, edgy designs for the adrenaline-charged NASCAR fan.
Launching February 15 at the Daytona International Speedway, Chase Authentics will be operating a trackside souvenir trailer featuring the cutting-edge apparel, merchandise and accessories of the Panic Switch Army brand. Some of NASCAR's biggest names, including Kurt Busch, Brad Keselowski, Kevin Harvick and Tony Stewart have partnered with Panic Switch Army for a line of NASCAR signature t-shirts.
"We're thrilled to team up with such an exciting new brand," said George Gay, general manager of Chase Authentics. "We've been working on this for quite awhile and I can't wait to get the new trailer out there for the fans to enjoy. Daytona can't come soon enough."
Sponsors for the rig include GoPro, Plaboy Radio and Boss Wraps.
Chase Authentics knows a thing or two about the NASCAR scene, as the company has been operating trackside souvenir trailers at NASCAR events for many years. The new rig will feature Panic Switch Army's unique apparel and accessories that put them on the map.
"This is an exciting initiative for NASCAR and our fans. We will have an 18-wheeler posting up at NASCAR races all over the country featuring Panic Switch Army merchandise and apparel, and we will also be bringing in some big names in entertainment. You can expect to find drivers, musicians, athletes, and models stopping by the rig, signing autographs and interacting with fans," stated Luke Burrett, creator and CEO of Panic Switch.
Fans can check out the new gear on the rig starting February 15, 2014 at Budweiser Speedweeks in Daytona Beach, Florida.
"We are trying to bring a lifestyle to NASCAR fans and this is the perfect outlet to do so," Burrett said.
About Panic Switch Army
Panic Switch Army, Southern California's new gasoline-fueled action sports apparel brand, founded by former Silver Star owners, Luke Burrett and Charis B., is inspired by extreme sports and music that caters to an adrenaline-charged lifestyle.
About Chase Authentics
Chase Authentics is the top-selling brand of Motorsports Authentics, a company operated by a joint venture between International Speedway Corporation and Speedway Motorsports Incorporated. Motorsports Authentics is the Official Trackside Apparel and the Official Trackside Vendor of NASCAR. Motorsports Authentics markets and distributes products through a variety of channels, including trackside at NASCAR events, specialty retail stores, the internet, team and driver shops, and track retail outlets.