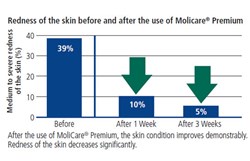 MoliCare adult briefs and underwear simply hold more.
(PRWEB) January 31, 2014
Home Delivered is excited to announce the release of their MoliCare Coupon. Finding high-quality incontinence products in the retail market is next to impossible for people with difficulty managing incontinence. MoliCare incontinence products provide evidence-based Active Skin Protection that has been proven to help prevent skin problems such as redness, itching, and incontinence associated dermatitis.
The cost of premium incontinence products is initially higher than that of a retail brand, but you can save money over time by using a superior product. MoliCare adult briefs and underwear simply hold more, making the wearer feel more comfortable and require fewer changes.
MoliCare Adult Briefs and MoliCare Mobile Underwear are especially suitable for skin condition improvement and redness reduction. They have unsurpassed absorption capacity and reduce unpleasant odors. MoliCare products create dry skin and their hypoallergenic materials reduce skin irritations and redness. MoliCare Premium has been proven to be hypoallergenic in three independent clinical tests. Source: proDerm Institute for Applied Dermatological Research, Hamburg, Germany.
MoliCare uses a three-part absorbent core to provide excellent protection. The top layer transfers the urine to the inner core. The middle layer can securely hold the fluid even under pressure thanks to the super absorbent polymer granules. The bottom layer provides stability for the absorbent pad and helps distribute urine within the product. All these layers work together to create absorbency that you won't get in retail products.
Home Delivered provides free delivery on all purchases of MoliCare incontinence products over $25 in as little as 2-4 days in the US. You can order online at HomeDelivered.com or by calling 855-881-2196.