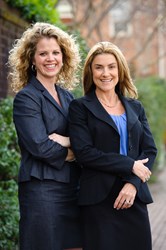 Washington, DC (PRWEB) January 31, 2014
Mark Lowham, Managing Partner of TTR Sotheby's International Realty, today proudly announced that The Blumel Adams Group, one of the region's most dynamic real estate teams based in Alexandria, Virginia, has joined the firm.
Co-founders Dayna Blumel and Kerry Adams will headquarter at TTR Sotheby's International Realty's Old Town Alexandria office at 400 South Washington Street. They previously were affiliated with Long and Foster in Alexandria and are highly respected for their success in the Northern Virginia Real Estate community.
"The Blumel Adams Group is widely recognized for their integrity and exceptional expertise, both of which align with our core values at TTR Sotheby's International Realty. We are very proud to welcome them to the firm, and we look forward to working with them to expand significantly the reach of their successful business," said Lowham.
"TTR Sotheby's International Realty offers us a unique synergy that greatly complements our team, with its broad reach and a robust technology and marketing platform," said Ms. Blumel. "We strive to stay at the forefront of real estate for our clients, utilizing the best resources for research and analysis," said Ms. Adams. "We strongly believe that the Sotheby's brand will provide our clients a strong competitive advantage in the Washington real estate market."
###
The Sotheby's International Realty network currently has more than 12,100 sales associates located in approximately 620 offices in 45 countries and territories worldwide. TTR Sotheby's International Realty has been the exclusive affiliate for the Washington, DC metropolitan area since 2006. The 24 year-old firm currently has over 200 associates with offices in Georgetown, DC; Downtown, DC; McLean, VA, Alexandria, VA and Chevy Chase, MD. For more information, visit http://www.ttrsir.com.