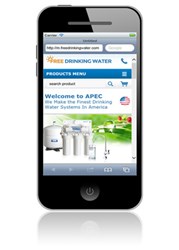 Over the past few years, we've seen more and more of our visitors and customers using mobile devices to access our website.
City of Industry, CA (PRWEB) January 31, 2014
APEC Water Systems, a leading manufacturer of reverse osmosis water purification systems, today has officially announced the launch of a new mobile website that provides better access to visitors on tablets and mobile phones.
"Over the past few years, we've seen more and more of our visitors and customers using mobile devices to access our website," said Ken Wong, sales manager at APEC. "As one of the first companies to offer customizable home water filtration systems direct to end users over the internet, we revolutionized the industry and changed the way people thought about, purchased and used water filters. We designed do-it-yourself (DIY) reverse osmosis systems, which customers could install and maintain on their own, to a market where expensive servicing from water systems contractors had been the norm. Thinking ahead, we offered advanced eco-friendly salt-free water softeners and non-backwashing carbon conditioners which were more water and energy efficient. Our focus on driving innovation throughout our entire organization has made the addition of a mobile website a natural progression that serves our goal of offering convenient universal access to our water purification products, services and educational information."
APEC's new mobile website offers a cleaner, more streamlined and intuitive experience for visitors on the go, while still offering hundreds of water filtration products including reverse osmosis systems, salt-free water softeners, whole house water conditioners, shower filters, air purifiers and much more. The company also archives an extensive water education library that provides information about general water quality topics and solutions. "The recent chemical spill in West Virginia and drought in our state of California are just two examples of the need for more public awareness and understanding of important water pollution and conservation issues," says Ken. APEC plans on launching the education library portion of the mobile site by early February with completion by the end of March.
"Our mobile website launch is the cumulation, realization and fulfillment of years of hard work and dedication to providing easily accessible water quality information, advice and solutions to the general public," said Ken. "We are now one step closer to that goal and we're extremely excited and proud of this launch."
About APEC Water Systems
For over 17 years, APEC has been an industry leading manufacturer of high performance residential and commercial water purification systems. Based out of Southern California, APEC specializes in building the highest quality reverse osmosis drinking water systems and backwashing whole house water filters right here in the USA. The company offers their products exclusively through their website at Freedrinkingwater.com which also provides an extensive water filtration guide and library to the public. To learn more about APEC and their products, please visit http://www.freedrinkingwater.com or call customer service at 1-800-880-4808 for more information.