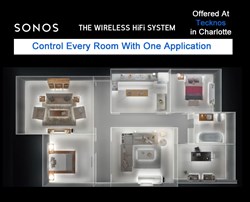 At Tecknos, we like simple. We install SONOS and show you how to use it. -- David Stollmack, Tecknos Owner
Charlotte, NC (PRWEB) January 31, 2014
Tecknos of Charlotte announces it is now representing a line of high-end HiFi wireless speakers and audio components from SONOS. This technology brings together home owners digital music collection in one app that that can be controlled from any device. Users will be able to play what they want in every room over a dedicated wireless network.
"SONOS products allow our customers the freedom of sound throughout their home," said David Stollmack, owner of Tecknos. "Every room of the home can now play music wirelessly through a smartphone. It's amazing technology at a great price."
Wireless is the new frontier for audio video systems. According to Stollmack, SONOS has the best wireless speakers on the market. The SONOS system works through an internet router and can stream music from internet radio or from a music library on a computer. Every SONOS piece has a network connection but only one piece needs to be hard wired to the network. The other SONOS pieces communicate to each other wirelessly. It also allows different music to play in different locations of the house or the same music can play throughout.
"At Tecknos, we like simple. We will install the SONOS system and show you how to use it," said Stollmack. "SONOS speakers can be controlled through iPad, iPhone, Android devices, a Mac or a PC. Everything is integrated together to give our customers the best sound."
Tecknos is impressed with the new line of SONOS products. And that is why Tecknos will offer their customers a range of SONOS products to complement their home entertainment systems. They also offer in home consultations, TV installations, and network integration services.
"We like to refer to SONOS as HiFi on your WiFi," said Stollmack. "This system allows us to put music anywhere in the home without a bunch of wires." SONOS speakers still need a power source to function, but can be installed practically anywhere in the home. SONOS works through Airplay and can stream music from a friend's device as well.
For more information about the SONOS system or other home theater needs, Tecknos can be contacted at 704-900-0171 or their showroom is located at 610 S Kings Dr. Suite EE Charlotte, NC 28204 near Mama Ricotta's.