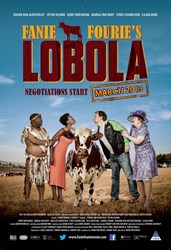 "Really well done with believable characters, a touching love story, and an upbeat soundtrack that made me want to jump out my seat and start dancing. Highly recommended!" – Seattle Film Reviews
Toronto, ON (PRWEB) February 03, 2014
After being presented with a dare at the cake shop, Fanie makes his first moves on Dinky after he is urged to invite her as a date to his brother's wedding. Marking the beginning of a tumultuous love story, this film goes on to break down traditional cross-cultural barriers, emphasizing the power of love. As Fanie and Dinky quickly begin to fall head over heels in love, their lives go awry as their loved ones struggle to come to an agreement on the Lobola – the traditional Zulu bride price.
Directed and co-written by Henk Pretorius, "Fanie Fourie's Lobola," has already taken home the Audience Award at the Seattle International Film Festival, the Audience Choice Award for Best Comedy Feature at the 2013 Sedona International Film Festival, and the Audience Choice Award at the 2013 Jozi Film Festival. Needless to say, it is already a favourite among audiences.
"Smart, funny and gleefully positive, this is a local romcom that works, and works well." – Tonight
"...a romantic comedy that's fresh, entertaining, heartwarming, street smart and sweet." – SPLING
"Really well done with believable characters, a touching love story, and an upbeat soundtrack that made me want to jump out my seat and start dancing. Highly recommended!" – Seattle Film Reviews
Please find the preview for the film here: http://www.youtube.com/watch?v=ZHKxbP3lSjU.
"Fanie Fourie's Lobola," will debut in Canada and the US in April 2014, but it is available for review immediately.
If you are interested in reviewing this film, please use the contact details attached to this release for the screening link and password. Your interest is greatly appreciated. Through the fresh take on the traditional romantic comedy, this South African film is sure to be entertaining for all audiences.
About 108 Media Corp
108 Media is a unique, vertically integrated and diversified next-generation media company. Through worldwide sales, distribution and ownership of film and TV content, 108 Media is positioned to offer custom built solutions for each of its projects.