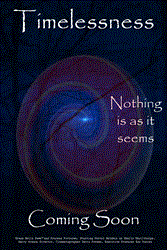 "Releasing Brass Balls Pictures actual movie title, Timelessness, early was a small price to pay to insure that Brass Balls Pictures cleared the path for Twentieth Century Fox's Salem 2014 premier", stated Duncan. "It was simply the right thing to do."
(PRWEB) February 01, 2014
Brass Balls Pictures movie Timelessness is coming soon.
Twentieth Century Fox Television and Brass Balls Pictures have been in the middle of productions using the same name, Salem. On June 4, 2013, Matt Cherniss, President/GM, WGN America announced WGN America ordered the drama series "Salem" from award-winning producers Brannon Braga (24, Star Trek: TNG, Voyager & Enterprise) and Adam Simon (The Haunting in Connecticut). WGN's Salem series home would be Fox 21 (Homeland, Sons of Anarchy), the cable production division of Twentieth Century Fox Television. Meanwhile, Brass Balls Pictures had been in pre-production for well over a year on the movie Salem (pilot to the series) based on the book Salem published June 17, 2011. Brass Balls Pictures was in the middle of building out sets, securing props/wardrobe, talent scouting and acquiring an interesting array of sponsors, i.e. Tagua Gun Leather, 425 Inc, Polymer Clay Express, Bear-Family Records, Aerobat Aviation and Orbotix, to name a few.
Brass Balls Pictures' writers, producers and board of directors were deliberately keeping the storyline under wraps and the real movie title under the working title Salem, planning to reveal the actual title upon movie release. Twentieth Century Fox's announcement that Fox 21 WGN's Salem was scheduled for a 2014 Fall Premier bumped those plans.
Potentially, this could have been an outright disaster for both Twentieth Century Fox Television and Brass Balls Pictures.
Kay Duncan, owner of Brass Balls Pictures and executive producer, realized Fox 21 President Bert Salke had no idea both were in production on projects under the same name. In an effort to circumvent catastrophe, she reached out to Jeremy Kaufman, intellectual property counsel for Twentieth Century Fox, to remedy any confusion between productions, Salem TV Series Facebook page and SalemtheSeries.com website. Kaufman, Twentieth Century Fox, Brass Balls Pictures and Duncan made an arrangement. Brass Balls Pictures would redirect anyone looking for Fox's Salem to Fox away from Brass Balls Pictures Salem Facebook and website and would announce Brass Balls Picture's actual movie title Timelessness when Fox's Salem premiered Fall 2014.
"Releasing Brass Balls Pictures actual movie title, Timelessness, early was a small price to pay to insure that Brass Balls Pictures cleared the path for Twentieth Century Fox's Salem," stated Duncan. "It was simply the right thing to do."
The book, Salem (pilot), is selling extremely well nationally and internationally. It is a rollercoaster read you cannot put down that has nothing to do with witch trials. The movie does not follow precisely the book which introduces the lead Skelly Skullthorpe, an absolute treasure trove of intricately complex issue-riddled characters and a solid dramatic storyline premise that has not been done previously.
Timelessness stars the handsome larger-than-life Darryl Baldwin (Arnold Schwarzenegger, Terminator; German Mechanic, Indiana Jones; Burn Notice) as the lead Skelly Skullthorpe. Baldwin was 19 years under contract with Disney.
When asked what the movie Timelessness is about, Duncan replied, "You will have to wait for the release. Timelessness is not like anything you have seen before. Nothing is as it seems."
"Timelessness is coming soon."