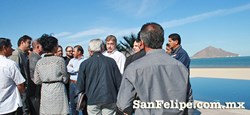 San Felipe is finally receiving the enthusiasm and sincere commitment of the state government.
(PRWEB) February 01, 2014
Saturday January 25 will be remembered as a very important day in the recent history of San Felipe.
In a meeting that took place at the Playa del Paraiso Hotel and organized by Jesús Carrillo, head of the Economic Development Committee, the governor of Baja California, Francisco "Kiko" Vega de Lamadrid attended to bring exciting news for San Felipe and the entire east coast.
The governor was briefed by representatives of some of the most important local developments such as Rancho Costa Verde and Playa del Paraiso and also by the Economic Development Committee of San Felipe.
Rancho Costa Verde was invited to this meeting with the governor and The Economic Development Committee of San Felipe as a clear example of a master planned community that is attracting American second home buyers and retirees to the area. As one of the major developments in San Felipe, Rancho Costa Verde shared with the committee why and how San Felipe is ideal area for Americans searching for second home and retirement ownership. Rancho Costa Verde is a 350-acre master planned real estate community just south of San Felipe that offers 180-degree sea and mountain views from every home-site. Rancho Costa Verde is a self-contained solar powered green community that takes advantage of the advances in solar power and green technology, as well as the unique, breath-taking natural amenities that only Baja California provides.
In an unprecedented statement historically made by any other Baja California government; governor Kiko Vega explained that in order to successfully support the local agenda, at some point within the month of February representatives of the entire government of Baja California will converge here and take all the steps to begin the works for the new San Felipe we all are willing to see and live in. Also the involvement of the Mexicali mayor and representatives of the Federal Agencies will participate in this unprecedented project.
This in the words of governor Vega will help to avoid dispersing the efforts and enable a common ground to solve the issues.
Governor Vega also considers a priority to continue and finish the pending works of the airport since there are more than one airliner almost ready to deploy services in what will finally become a fully functional San Felipe International Airport and facilities.
To learn more about San Felipe, Baja California and Rancho Costa Verde visit http://www.ranchocostaverde.com