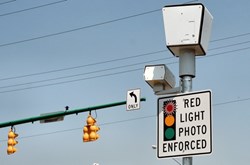 If fleets haven't taken any steps to remediate the behavior of a driver with many camera violations, they may be exposed to multi-million dollar liability judgments.
Trevose, PA (PRWEB) January 30, 2014
Fleets that don't make red-light, speed, or school bus stop arm safety camera violations part of their drivers' safety profiles are running the risk of multi-million dollar liability costs, says Vincent Brigidi, president and chief operating officer of The CEI Group, Inc., a fleet services provider.
According to American Traffic Solutions (ATS) Fleet Services, a leading provider of fleet toll and violation management solutions, the number of road safety camera violations issued to fleet vehicles has soared over the last five years.
The problem for fleets is that these types of tickets are issued to the owners of the vehicles – usually the fleet or its leasing company – and not to the drivers and rarely appear on drivers' Motor Vehicle Records (MVRs), Mr. Brigidi notes. Since MVRs are one of the principle tools used to identify and intervene with high-risk drivers, fleets may be unaware of drivers who represent a liability if they're found responsible for a collision.
"[C]amera violations are still public record, and accessible to a plaintiff's attorney," Mr. Brigidi warns. If a fleet driver has a history of multiple speeding, stop arm or red-light running violations by road safety cameras "and the fleet has never taken any steps to remediate the driver's behavior, it is exposed to the danger of being found guilty of negligent entrustment" and there have been many cases of multi-million dollar judgments and settlements, he noted.
Adam Draizin, president of ATS Fleet Services, adds that fleets typically pay road safety camera fines right away to avoid penalties and then attempt to identify and collect from the driver, but it's "a time-consuming process that is often unsuccessful." As a result, high-risk drivers remain hidden from the fleet.
The solution is for fleets to adopt technology that matches traffic safety camera violations to the responsible drivers. CEI and ATS have jointly developed a solution, which is currently in beta testing. CEI expects to roll out the capability, currently in beta testing, later this year as an enhancement to its DriverCare Risk Manager™ application.
Mr. Brigidi and Mr. Draizin made the remarks in an article in the December issue of Automotive Fleet magazine, titled "Strategies to Manage Fleet Violations." For the full article, please visit http://www.automotive-fleet.com/channel/safety-accident-management/article/story/2013/12/strategies-to-manage-fleet-violations.aspx.
About American Traffic Solutions (ATS)
American Traffic Solutions (ATS) is a leading provider of fleet toll and violation management solutions in North America. Working with some of North America's largest fleet management and rental car companies, ATS Fleet Services processes approximately 36 million toll transactions and more than 850,000 violations every year. ATS also is proud to be North America's market leader in road safety camera installations, with more than 3,200 installed red-light, speed and school bus stop arm safety cameras serving more than 300 municipalities. Visit http://www.atsfleetservices.com or http://www.atsol.com for more information.
About The CEI Group, Inc. (CEI)
CEI is a leading provider of technology-enhanced vehicle accident, driver safety and fleet risk management services. Its provider network consists of some 4,000 collision repair shops in North America, and includes nearly 900 truck collision repair centers. Its customers include self-insured, commercial, and institutional and government fleets, directly and through alliances with fleet leasing companies. CEI also provides vehicle direct repair program outsourcing to leading property and casualty insurance companies.
Founded in 1983, CEI has headquarters near Philadelphia, PA, and field sales offices in Trevose, PA, Tulsa, OK, and Lake in the Hills, IL. In 2000, CEI launched the DriverCare™ line of services, which include fleet risk management, MVR ordering and compliance, on-line and behind-the-wheel driver safety training and a safety newsletter. For more information about CEI, visit http://www.ceinetwork.com.