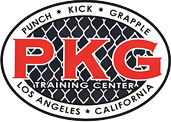 Westwood, CA (PRWEB) January 31, 2014
Punch Kick Grapple, the premier West Los Angeles fitness training center, has redesigned the website so that visitors can learn even more about the services that are available. The site is user friendly and makes it a pleasant experience to browse through pertinent information and even sign up for a free trial class.
The center offers classes in mixed martial arts, boxing, kick boxing, Brazilian Jiu Jitsu, 1:1 training, and instruction on Muay Thai. Highly qualified trainers on staff are available who can effectively teach any type of level, from beginner to expert. Customized training sessions are also available.
The newly designed website contains a great deal of information that will be invaluable to visitors who are already clients at the center or who are considering taking classes. The site provides information on the classes that are offered, the instructors who will be performing the training, along with a number of testimonials from very satisfied clients.
Contact information is offered on the site that will make it a simple process to pose questions or to sign up for a free trial. Online visitors are invited to leave an email address and a phone number in order to hear back from a representative of the center quickly.
With the newly designed website now available to prospective clients, anyone who visits the site and looks over the information that is provided will be in a better position to make informed decisions regarding the classes that will be most beneficial for individual needs.
The training center caters to interested clients in the Los Angeles area, such as Brentwood, Culver City, the San Fernando Valley, and Beverly Hills. The facility is located in Westwood and can be reached quite easily by interested individuals in surrounding areas. The latest tools are provided to clients in order to enrich the training experience.
Customized plans will ensure that clients will receive the best type of training pertaining to specific skill levels. Workout plans can be chosen from a wide range of classes that can always be altered to fit particular needs and goals.
Online visitors are invited to check out the Punch Kick Grapple website to learn more about the facility, the instructors on staff, and the classes offered. Contact information can be provided in order to get feedback from a facility representative and to schedule classes in the type of training that is of interest.