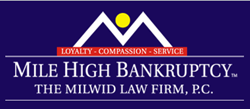 Mile High Bankruptcy has been committed to helping people with financial problems for over 25 years
Denver, CO (PRWEB) January 30, 2014
According to Denver Bankruptcy Lawyer, Peter A. Milwid of Mile High Bankruptcy, people struggling with financial problems have been hit hard by three different actions of the Federal government in recent months. "More Chapter 7 Bankruptcies are needed to alleviate debt while people are having benefits cut right and left and bills become harder and harder to pay."
First, in November, Congress significantly cut Food Stamp benefits. According to Mr. Milwid, this has caused many people to go hungry. "I've heard that students at inner city colleges are showing up for classes hungry, and that school food banks are empty almost as soon as any food arrives."
The second hit came when Congress failed to renew long term unemployment benefits which ran out December 28th. "While Congress is still fighting on whether to reinstate these benefits, the bottom line is that the money stopped at the end of the year. This hurt the chronically unemployed, and especially those in school attempting to retrain for new jobs, but who still need help until they can graduate," Milwid said.
The third impact is the delay in processing tax returns and tax refunds by the IRS from mid January until January 31st. The IRS apparently needs more time to make up for the time lost when the government shut down briefly in October. "The people who usually file first are those who receive Earned Income Credit and Additional Child Tax Credit which are benefits for folks with children and low incomes who need the money right away. People wait all year for these refunds to get caught up on utility bills, buy kids' clothes, do car repairs, and other things they cannot afford out of their regular pay checks. Now they will have to wait."
Filing Chapter 7 Bankruptcy is one way for people devastated by these cut backs to eliminate bill collectors and debts from their lives while trying to earn a better living. "Mile High Bankruptcy has been committed to helping people with financial problems for over 25 years. While we cannot help with the income issue, we can eliminate debts that are impossible to pay. We always design payment plans on fees to meet all clients' needs, so people can process a Chapter 7 Bankruptcy and get a fresh financial start." Folks needing help can call Mr. Milwid directly at Mile High Bankruptcy in Denver at 303-831-0733.