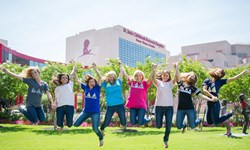 "Tri Delta is an amazing partner that consistently outperforms its own ambitious fundraising goals to support the children and families of St. Jude." - Richard Shadyac Jr., ALSAC CEO
Arlington, TX (PRWEB) February 03, 2014
On Saturday, Feb. 1, Delta Delta Delta Fraternity officially announced the completion of its $15 million fundraising goal for St. Jude Children's Research Hospital®, which is leading the way the world understands, treats and defeats childhood cancer and other deadly diseases. The original campaign, which began in July 2010, was to raise $15 million in 5 years for the hospital. Tri Delta completed the goal a year and a half ahead of schedule.
The announcement came during the annual Tri Delta St. Jude Leadership Weekend in Memphis, Tenn., where more than 350 Tri Delta members were gathered to learn about the hospital's operations, attend educational sessions on fundraising best practices and celebrate the Fraternity's partnership with St. Jude.
"The drive of individual members, chapters, and Tri Delta as a whole is what makes me the most proud," said Rebecca Moix, Arkansas, collegiate chapter president of Delta Iota Chapter. "As a group of passionate and dedicated women, we are saving children's lives."
The partnership between Tri Delta and St. Jude has seen extreme growth over the past 15 years. Since officially naming St. Jude its philanthropic partner in 1999, Tri Delta has raised more than $27 million for the hospital. The Fraternity's first $1 million endowment in 2002 provided a teen room for patients between the ages of 13 and 19. Then, in 2006, Tri Delta announced its campaign to raise $10 million in 10 years to name to the Tri Delta Patient Care Floor in the Chili's Care Center. This goal was met in just four years. The $15 million campaign, completed in November 2013, was dedicated to naming the Specialty Clinic at the hospital.
"Tri Delta is an amazing partner that consistently outperforms its own ambitious fundraising goals to support the children and families of St. Jude," said Richard Shadyac Jr., CEO of ALSAC/St. Jude Children's Research Hospital. "The results are a reflection of how passionately and genuinely their members have embraced our lifesaving mission. We are fortunate to have Tri Delta as our partner and join them in celebrating their $15 million contribution to help St. Jude find cures and save children."
Currently, Tri Delta and St. Jude leadership are discussing future naming opportunities, and Tri Delta will announce its next fundraising goal in July.
"We are so excited for the next step in our relationship with St. Jude Children's Research Hospital," said Fraternity President Phyllis Durbin Grissom, Southern Methodist. "It's an exciting time for Tri Delta, and our members are as dedicated as ever to helping the kids of St. Jude."
###
About Tri Delta
Founded in 1888, Tri Delta is a leader among social Greek organizations through its passion for progress and visionary thinking. Through partnerships with nationally recognized organizations like St. Jude Children's Research Hospital, award-winning publications like The Trident, and innovative collegiate and alumnae initiatives, Tri Delta is committed to leveraging our timeless values to revitalize the sorority experience. For more information, please visit TriDelta.org or call (817) 633-8001.
About St. Jude
St. Jude Children's Research Hospital is leading the way the world understands, treats and defeats childhood cancer and other deadly diseases. St. Jude has the world's best survival rates for the most aggressive childhood cancers, and treatments invented at St. Jude have helped push the overall childhood cancer survival rate from 20 percent to 80 percent since we opened more than 50 years ago. St. Jude is working to drive the overall survival rate for childhood cancer to 90 percent in the next decade. St. Jude freely shares the breakthroughs we make, and every child saved at St. Jude means doctors and scientists worldwide can use that knowledge to save thousands more children. Families never receive a bill from St. Jude for treatment, travel, housing and food — because all a family should worry about is helping their child live. Join the St. Jude by visiting http://www.stjude.org or following us on Facebook and Twitter.