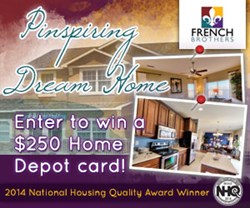 Atlanta, GA (PRWEB) January 31, 2014
mRELEVANCE, LLC announces the launch of French Brothers Homes' first interactive Pinterest contest, Pinspiring Dream Home. Participants are invited to create a French Brothers dream home board and compete to win a $250 Home Depot gift card. The contest ends March 31, and the winner will be announced April 4, 2014.
"mRELEVANCE works to increase interaction for our clients through campaigns that utilize social and traditional media," said Carol Morgan, managing partner of mRELEVANCE. "This campaign for French Brothers has already increased their online traffic and engagement."
In addition to increasing online traffic, Corrine Bachman, vice president of French Brothers Homes, explained that some of the goals for this campaign include increasing engagement on the newly created Pinterest page and showcasing design options available when building a new home. Bachman also hopes the campaign will spread the word about the company's recent honor of receiving the 2014 National Housing Quality Award.
To participate, individuals must follow these steps:
1. Click here to follow French Brothers on Pinterest.
2. Create a board named "My French Brothers Dream Home."
3. Re-pin at least five images to the new board. Vary images to include kitchens, family rooms, owner's suites and more. On each pin, include #frenchbrothersdreamhome in the description.
4. Once the board is complete, post a comment with the link (URL) to it under the pin located at http://www.pinterest.com/fbhomes/pinspiring-dream-home/.
5. Once the link to the board is posted, be entered for a chance to win!
For full directions and contest rules, please click here. To learn more about Pinterest campaigns, please contact mRELEVANCE at 770-383-3360.
About Marketing RELEVANCE: mRELEVANCE, LLC creates relevant marketing and communications that reach audiences with focused and strategic messages. Through technology and creative content, messages are delivered to target markets to encourage customer action and interaction.
With offices in Atlanta and Chicago, mRELEVANCE can connect your company with buyers and build relevant relationships nationwide. For more information, visit http://www.mRELEVANCE.com, like us on Facebook at http://www.Facebook.com/mRELEVANCE, follow us on Twitter at @mRELEVANCE or call 770-383-3360 or 847-259-7312.