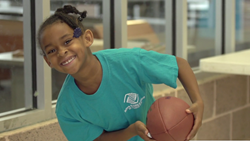 "We need to teach kids healthy habits that last a lifetime. And we can only do that when they have safe places to play and be active." - John Lumpkin, MD, RWJF Senior Vice President and Director of the Health Care Group
Princeton, NJ (PRWEB) January 30, 2014
Also for immediate release: the short video at http://youtu.be/kKEfbrkVo-0 "Touchdown! RWJF & NY/NJ Super Bowl Host Committee Team Up to Rebuild Kids' Centers Damaged by Sandy"
Long after this year's Super Bowl Most Valuable Player is named, the game will continue to have an impact on youngsters throughout the State of New Jersey. The NY/NJ Snowflake Youth Foundation (SYF), the charitable arm of the NY/NJ Super Bowl Host Committee, is refurbishing run-down or damaged youth-serving organizations throughout the Garden State. Repairs to at least 23 of the sites are being funded in part by a $1.5 million grant from the Robert Wood Johnson Foundation (RWJF) to SYF through the Community Foundation of New Jersey.
Although many of these sites were in need of repairs and upgrades long before Hurricane Sandy came along, the superstorm had a huge impact. Many facilities were forced to shut their doors entirely, and more than a year after Sandy made landfall, the repair work continues.
The repairs include new gym floors, new playgrounds, computer upgrades, roof repairs, new elevators, and top-to-bottom cosmetic improvements. RWJF Senior Vice President and Director of the Health Care Group, John Lumpkin, MD explained, "an important part of attaining a culture of health is making sure that everyone has the opportunity and access to be physically active. This is especially important for our children. We need to teach kids healthy habits that last a lifetime. And we can only do that when they have safe places to play and be active."
The list of facilities whose repairs have been made possible in part through the RWJF grant so far include:

All Stars Project of Newark, Newark, NJ
Boys and Girls Club of Atlantic City – Chelsea Club, Atlantic City, NJ
Boys and Girls Club of Atlantic City – Presidents Club, Atlantic City, NJ
Boys and Girls Club of Monmouth County, Red Bank, NJ
Boys and Girls Club of Newark, Newark, NJ
Boys and Girls Club of Paterson/Passaic, Paterson, NJ
Boys and Girls Club of Union County, Union, NJ
Concord Street Park, Moonachie, NJ
Hackensack Medical Center Healthy Futures Project, Hackensack, NJ
Hugh Boyd Elementary, Seaside Heights, NJ
Manasquan Elementary, Manasquan, NJ
Moonachie Joseph Street Park Project, Moonachie, NJ
Paterson Youth Consultation Services, Paterson, NJ
Puerto Rican Association for Human Development, Perth Amboy, NJ
R.D. Wilson Memorial Community Center, Highlands, NJ
Rahway Community Action Organization, Rahway, NJ
Rahway Recreation Center, Rahway, NJ
Saint Rose of Lima, Belmar, NJ
Salvation Army Boys and Girls Club of Ironbound, Newark, NJ
Sussex Avenue Elementary School, Newark, NJ
Toms River East High School, Toms River, NJ
Youth Consultation Services, George Washington School, Hackensack, NJ
YWCA of Essex and West Hudson, Orange, NJ
Based in Princeton, RWJF is committed to making a difference in its home state of New Jersey. In addition to the grant to SYF, RWJF also pledged $5 million immediately following the storm for Sandy recovery in New Jersey.
About the Robert Wood Johnson Foundation
The Robert Wood Johnson Foundation is the largest private foundation in New Jersey and the nation's largest philanthropy working to improve the health and health care of all Americans. We are striving to build a national culture of health that will enable all Americans to live longer, healthier lives now and for generations to come. The Foundation has invested more than $1.5 billion in New Jersey since 1972. For more information, visit http://www.rwjf.org/nj. Follow the Foundation on Twitter at http://www.rwjf.org/twitter or on Facebook at http://www.rwjf.org/facebook.
About the NY/NJ Super Bowl Host Committee
The NY/NJ Super Bowl Host Committee is the entity created by the owners of the New York Football Giants and the New York Jets to raise the necessary funds and partner with the NFL to plan and stage Super Bowl XLVIII and all of its associated events. The Host Committee also works closely with area business leaders and public officials to coordinate key logistics and maximize the game's positive economic impact for the region. Additionally, in an effort to give back to the surrounding region, the Host Committee supports an active roster of charitable initiatives, largely conducted through the work of the Snowflake Youth Foundation, including the rehabilitation of after-school centers, support for the Super Community Blood Drives, and various environmental works.
About the NY/NJ Snowflake Youth Foundation
The NY/NJ Snowflake Youth Foundation is a newly formed charity headquartered at MetLife Stadium in East Rutherford, NJ. Created as an initiative of the NY/NJ Super Bowl Host Committee, the Foundation will harness the excitement of the Super Bowl XLVIII to raise critical funds to renovate and transform after-school facilities in the NY/NJ area that provide school-age boys and girls with safe and supervised recreational, educational, and character-building activities. More information can be found at http://www.snowflakeyouthfoundation.org.
# # #