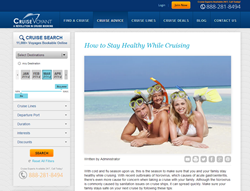 "Even with the recent illness outbreaks, cruising is still a very safe vacation choice," said Carmen Sigman, of Cruise Voyant.
Fort Lauderdale, FL (PRWEB) January 31, 2014
Cruise Voyant, one of the leaders in the cruise industry, has released expert advice and information about how consumers can stay safe on their next cruise vacation. Cruise Voyant experts advised there are several ways to reduce the risk of being affected by Norovirus and other infectious outbreaks both when choosing a cruise and when embarking on a cruise.
"Although most Norovirus outbreaks are due to cruise lines failing to comply with sanitation standards, there are ways to protect yourself," Carmen Sigman said, writer for Cruise Voyant. "We're hoping that by providing suggestions and advice for future cruise passengers that outbreaks will not be as severe as the case seen on the Explorer of the Seas."
Cruise during the safe season: Cruise Voyant experts warn that most Norovirus outbreaks occur during winter. They suggest cruising during summer or early fall to help avoid Norovirus outbreaks.
Select a cruise line carefully: Although Royal Caribbean has received recent media coverage for the illness outbreak on the Explorer of the Seas (affecting 20% of passengers), Royal Caribbean has only had a total of 6 outbreaks in the past 5 years and Cruise Voyant experts confirm it is still one of the safer cruise lines for those with health concerns. Carnival Cruise Line and Norwegian Cruise Line are also great options, according to Cruise Voyant, with less than 5 illness outbreaks each.
Pack for the worst: The experts at Cruise Voyant explain the importance of packing the essentials to stay healthy. They suggest packing hand sanitizer to help prevent contamination as well as over the counter pain reliever to help with some of the symptoms of a Norovirus infection if contracted.
Know and report your symptoms: Because most complications of Norovirus involve dehydration, Cruise Voyant advises staying hydrated while cruising, especially at the first sign of illness. They also suggest reporting Norovirus symptoms (vomiting, diarrhea, stomach cramps, fever, chills, headache, muscle aches and/or fatigue) right away since outbreaks happen so rapidly.
Avoid buffets during outbreaks: Cruise Voyant suggests that if an outbreak begins, avoid buffets when dining. Food on buffets is much more susceptible to contamination due to the large number of people handling serving utensils and can spread infection quicker.
"Even with the recent illness outbreaks, cruising is still a very safe vacation choice," said Carmen Sigman, of Cruise Voyant. "At Cruise Voyant, cruising is our passion and as a leading source of cruise information we want to help our customers by providing useful information that will help keep them safe during their next cruise."
Cruise Voyant has a team of experts that stay informed on the latest cruise news and trends in order to provide advice and solutions to cruise consumers. For more information about Cruise Voyant, please visit http://cruisevoyant.com/ and to read more about how to stay healthy while cruising, visit http://www.cruisevoyant.com/cruise-advice/how-to-stay-healthy-while-cruising.
About Cruise Voyant
Cruise Voyant is a Fort Lauderdale-based cruise agency that is revolutionizing the cruise booking process. Cruise Voyant solves many of today's most difficult booking issues by allowing visitors to view a historic look at how pricing has changed on a particular ship and sail date. Cruise Voyant also offers interactive cruise itinerary maps, and it provides tens of thousands of photos of ships and destinations worldwide. Cruise Voyant helps consumers easily find their dream vacation by empowering them with online advice and insights that will help them easily book and manage their vacation plans.