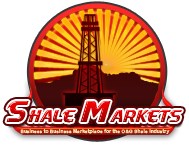 "We had been struggling for about 6 months trying to complete our enrollment with ISNetworld®. We had a failing grade. Safety Services Company took over and in 1 week we were compliant with 100% RAVS® Safety Review and a grade of A!!"
Pittsburgh, PA (PRWEB) January 31, 2014
Imagine what a company can accomplish with an ISNetworld™ certification submitted within 72 hrs, and then be guaranteed to have a company profile placed in front of some of the big players in the Oil and Gas Industry.
Shale Markets, LLC., partnered with Safety Services Company™, can make this happen. And many people have no idea how inexpensive it is to accomplish this. Whether a company is already in the O&G Industry, or is looking for a fast track to get in, contact Shale Markets as soon as possible to take advantage of this unique time in the industry where new businesses are desperately needed to enter the Industry.
Services Offered:
HSE Manuals - Through the manual service, a company specific policy meeting RAVS® or other requirements of client companies will be developed.
Training Documentation (T-RAVS ™) - Through the training documentation service SSC & Shale Markets will determine training needed, provide training documents and upload all documentation.
Questionnaire Process - Through the Questionnaire Process, SSC & Shale Markets will complete all 2200 questions matching the HSE, eliminate all discrepancies in Gap Report and upload all insurance and statistical documents.
Account Maintenance - Through the account maintenance program SSC & Shale Markets will monitor your account and make needed changes to ensure a maximum compliance score.
ISN™,PEC™, PICS™ SafeLand / SafeGulf, CanQual™ are now affordable.
Let the Global Compliance Solutions team help save money by fulfilling 3rd party auditor & owner client requirements.

72-hour submission - In most instances SSC & Shale Markets can create & upload HSE manuals and other requirements in 72 hours or less.
Compliance guarantee - With this program we will complete all MSQ™ Questionnaires, TRAVS™ and monitor your account to ensure continued compliance.
5000+ Clients Working for 200+ Owner Clients
Quote from a client of Safety Services Company™:
"We had been struggling for about 6 months trying to complete our enrollment with ISNetworld®. We had a failing grade. Safety Services Company took over and in 1 week we were compliant with 100% RAVS® Safety Review and a grade of A!! "
-Ann Dickerson
Kay Communications Inc.
For a Safety Pre-Qualification, for more information, or for a wellness check on an existing pre-qualification, visit Shale Markets Website to request more information.