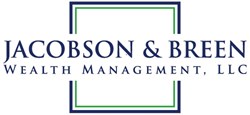 Petaluma, CA (PRWEB) February 04, 2014
Noah Jacobson and Brian Breen, Principals at Jacobson & Breen Wealth Management, LLC have signed a six-year lease and moved their offices to the executive suites on the second floor of downtown Petaluma's, 200 Kentucky St. building. The move was necessary to accommodate the firm's continued growth and future expansion.
"Our community and clients are the reason for our firm's continued success," said Breen. "We made a commitment to remain downtown in order to stay connected with the community, as well as to provide our clients with easy access, parking and a comfortable, inviting, professional office environment. We are very excited to have the opportunity to move our business to such an iconic building in the heart of our town."
Jacobson & Breen Wealth Management, LLC is an independent, fee only wealth management firm providing personal financial planning and asset management for select high net worth families and businesses.
For more information call (707) 595-6555 or visit http://www.jacobsonbreen.com