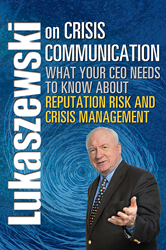 Follow these 8 steps in this order very promptly. Forgiveness happens more quickly when you admit offenses immediately. If you omit any of these 8 steps, there will be negative consequences.
Brookfield, CT (PRWEB) February 27, 2014
"Adverse situations remediated quickly cost a lot less, are controversial for much shorter periods of time, suffer less litigation, and help the victims come to closure more quickly," says Jim Lukaszewski, often called America's Crisis Guru and author of a new book Lukaszewski on Crisis Communication: What Your CEO Needs to Know About Reputation Risk and Crisis Management from Rothstein Publishing.
The "I'm sorry" movement in health care has emerged as a medical malpractice reduction strategy, and several state legislatures have rewritten statutes to make room for apologies in litigation. From Louisiana, to Michigan, to Minnesota, they've instituted apology/settlement programs.
What makes an effective apology?
Effective apologies follow a definite process. Saying "I'm sorry" or "we apologize" is the starting point. To make sincere apology work, you need to use a pattern and sequence of specific behavior elements.
Lukaszewski cautions that these 8 steps are society's minimum requirements for restoring relationships and forgiving the behavior of others. Follow these steps in precisely this order -- and very promptly. Forgiveness happens more quickly when you admit your offense immediately. Experience shows that if you omit any steps, there'll be negative consequences.
1. Candor: Promptly make a public acknowledgement (or outright apology) that a problem exists; that people or groups of people, the environment, or the public trust are affected; and that something will be done to remediate the situation.
2. Explanation (No matter how silly, stupid, or embarrassing the problem-causing error was): Promptly and briefly explain why the problem occurred and the known underlying reasons or behaviors that led to the situation (even if you have only partial, early information).
3. Affirmation: Talk about what you've learned from the situation and how it will influence your future behavior. Unconditionally commit to regularly report additional information until it is all out or until no public interest remains.
4. Declaration: Make a public commitment to take specific, positive steps to conclusively address the issues and resolve the situation.
5. Contrition: Continue to express regret, empathy, sympathy, even embarrassment. Take appropriate responsibility for having allowed the situation to occur in the first place, whether by omission, commission, accident, or negligence.
6. Certification: Promptly ask for help and counsel from "victims," government, the community of origin, independent observers, and even from your opponents. Request that those most directly affected by the problem help develop more permanent solutions, more acceptable behaviors, and design principles and approaches that will preclude similar problems from recurring. Accept outside oversight or independent monitoring to certify that what you say you will do is what you do.
7. Commitment: Publicly set your goals for recurrence at zero. Zero errors, zero defects, zero dumb decisions, and zero problems. Publicly promise that to the best of your ability, situations like this will never occur again.
8. Restitution: Find a way to quickly pay the price. Make or require restitution. Go beyond community and victim expectations, and what would be required under normal circumstances to remediate the problem.
Sorry works. And it's the right thing to do.
Lukaszewski on Crisis Comunication is available from Amazon.com
James E. Lukaszewski (loo ka SHEV skee), ABC, APR, Fellow PRSA, is a globally recognized master practitioner of the modern discipline of crisis communication, a field he helped pioneer and continues to shape. Jim was recently named among the Top 100 Thought Leaders in Trustworthy Business Behavior for 2013 by Trust Across America. He is profiled in Living Legends of American Public Relations; listed in Corporate Legal Times as one of "28 Experts to Call When All Hell Breaks Loose"; and cited in PR Week as one of 22 "crunch-time counselors who should be on the speed dial in a crisis."
Rothstein Publishing is a premier source of books and learning materials in Business Continuity, Disaster Recovery, and Emergency, Risk, and Crisis Management. Industry-leading authors provide current, actionable knowledge, solutions, and tools that can be put into practice immediately. The company's commitment is to teach organizations how to be ready and able to protect, preserve and recover their most important assets: people, facilities, finances, and reputation. http://www.rothsteinpublishing.com