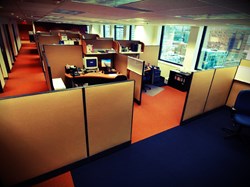 Los Angeles, California (PRWEB) January 31, 2014
Successful businesses rise to the top by operating more efficiently than their competitors, and often this means relocating because of changing demographics or evolving business requirements. The Commercial Movers know how important business is to vibrant communities, and therefore prioritize reducing or eliminating the downtime for a rapid, hassle-free transition.
The Commercial Movers have therefore introduced several important checklists for businesses to consider, all aimed at improving conditions necessary for a relocation before it even takes place. For example, their specialized team of office movers recommends allocating at least two months of time before a scheduled move in order to compare quotes, obtain an on-site estimate, and begin to procure the necessary supplies. During this time, it is important to ensure all employees are aware of and ready for the coming change. In addition, businesses moving offices should begin the process of throwing away or donating all materials that will not be transported with them.
In the weeks before the office moving, it is important to notify all customers, venders, and company-related services of an impending relocation. Update shippers. Automation should be priority one, and so temporary servers should be set up when necessary.
These new processes should reduce costs for businesses by eliminating unneeded steps. Office moving services will happily provide free quotes for companies considering a relocation, but can also provide expert advice on steps to take in the event they would prefer to take on some of the burden themselves.
Still, businesses in question should understand that it is the goal of office movers to handle as much as possible in order to make it an effortless, enjoyable experience. By training their already experienced teams to appreciate the numerous differences between residential and commercial moving, they have taken the profession to the next level, and expect that 2014 will provide relief to businesses seeking to relocate across Los Angeles.
About The Commercial Movers
The company excels at all aspects of commercial, business, and office moving, and strives to make the transition from one environment to the next as painless as possible. The movers are trained, experienced, and devoted to the satisfaction of clients. During the planning stages, a complete inventory will be taken to ensure that all items are accounted for after being safely packed and transported with the use of an environmentally-friendly fleet of trucks. If necessary, the company also provides dedicated storage with around the clock surveillance. For additional information, please visit The Commercial Movers online.