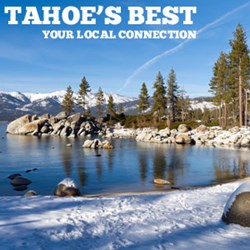 Tahoe ski resorts including Squaw Valley, Alpine Meadows, Heavenly, Kirkwood, Northstar, Diamond Peak and others, are all reporting heavy snowfall today.
(PRWEB) January 30, 2014
"We've all been scratching our heads wondering where Mother Nature has been this January," said Roger Sheppard, an editor at Tahoe's leading travel & tourism site, Tahoesbest.com (http://www.tahoesbest.com). "Well, she's back just in time to kick of what is shaping up to be an epic weekend on the slopes." Roger added, "Tahoe ski resorts including Squaw Valley, Alpine Meadows, Heavenly, Kirkwood, Northstar, Diamond Peak and others, are all reporting heavy snowfall today and have been fortunate, with all the cold temperatures this month, to have plenty of manmade base to support this storm and the coming storms. And better yet, sun and clear skies are in the forecast for this weekend."
The National Weather Service has issued a Winter Storm Warning for the Greater Lake Tahoe Area in effect through 4 am PST Friday 1/31/2014. Here is the National Weather Service page for more storm specific details – click here.
Weather forecasts call for up to 2' at higher elevations above 8000' feet, one foot or more above 7000 feet and approximately 6" at Lake Tahoe lake level. The best news to the Tahoe ski resorts and local businesses, other than a massive, long awaited January snow fall, is the weekend weather looks clear making driving to and from Tahoe possible and flights running smoothly in and out of the Reno Tahoe airport.
For detailed and up to date information on Tahoe weather forecasts, road conditions and storm alerts, check the TahoesBest.com Lake Tahoe weather page. Specific information is available for:
· Updated Lake Tahoe weather forecast;
· North and South Tahoe 7-day forecast;
· Highway, road conditions and chain requirements from Caltrans;
· Snow forecasts;
· Storm Warnings;
· Live Tahoe traffic cams;
· National Weather Service satellite & radar maps;
· Tahoe ski resort snow cams;
· Tahoe ski and snow reports;
· More…
This January storm will bring a lot of happy faces on Tahoe skiers, boarders, riders, shredders, sit-in-the-lodgers, snowmobilers, snowshoers, sledders, tobogganers, saucerers (assuming there is such a person), fort builders, snowballers, snowman makers, snow angel creator-extraordinaires, snowflake catchers, snowblowers, shovelers, and rank and file snow lovers! Lake Tahoe has suffered this winter with lower than average snowfall which has been challenging for an economy that prides itself on world-class amenities, service and fun.
For folks heading to Lake Tahoe this weekend or this winter, TahoesBest.com is Tahoe's leading travel & tourism site providing viewers with everything they need to research, review, plan and book a stay in beautiful blue (and white) Lake Tahoe. Specific information can be found on:
· Lake Tahoe hotels
· Vacation rentals, homes, condos & cabins
· North and South Tahoe casino hotel listings
· Things to Do in Tahoe – both winter and summer
· Tahoe ski resort information
· Daily ski & snow reports
· Tahoe ski and board rental options
· Wedding resources
· Restaurants
· Tahoe weather & road conditions
No update on Lake Tahoe would be complete with a mention that South Tahoe and North Tahoe were recently voted #1 and #3 "Best Ski Destinations" by readers of USA TODAY and 10Best. The recognition was announced earlier this month.
About TahoesBest.com:
Lake Tahoe is known for outdoor activities, pristine waters and one of the best wedding destinations in the country. TahoesBest.com is the authority on what to do, where to stay, weather updates and all the best upcoming events for any visitor. Use TahoesBest.com to find information, reviews and deals on all things Lake Tahoe from concerts to vacation rentals.