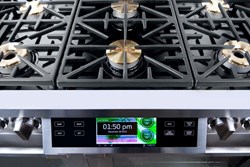 We're truly honored to receive a GOOD DESIGN Award with our long-term partner, BMW Group DesignworksUSA. - Dacor President Steve Joseph
Los Angeles, CA (PRWEB) February 03, 2014
Dacor®, the leading manufacturer of ultra-premium kitchen appliances, in partnership with BMW Group DesignworksUSA, is the recipient of a 2013 GOOD DESIGN™ Award, the world's oldest and most recognized design awards program. Dacor won the prestigious award for its Discovery iQ Graphical User Interface (GUI).
The Dacor GUI was selected as a GOOD DESIGN recipient among 700 entries from 38 countries for its innovative design, seamless user experience and ability to enrich the lives of users, through design.
The GUI is featured in the Dacor Discovery™ iQ 30" Wall Oven and newly-unveiled Discovery™ iQ 48" Dual-Fuel Range. Accessed through an integrated, wirelessly-connected tablet, the interface combines tasteful aesthetics with one-of-a-kind features. The sleek interface enables home chefs to access a pre-programmed cooking guide and prepare a wide range of dishes with the touch of a finger; watch cooking shows or tutorials right from the range or wall oven; download and save favorite recipes; and download apps from the Google Play™ Store or Apple App StoreSM. Upon completion of a dish, both the range and wall oven automatically switch to a warming mode and inform the chef by text message that the meal is ready.
"We're truly honored to receive a GOOD DESIGN Award with our long-term partner, BMW Group DesignworksUSA. When people see the GUI on the Dacor iQ Controller, it strikes them as not only beautiful, but instantly accessible and intuitive," states Dacor President Steve Joseph. "Our new Discovery iQ appliances utilize smart technology to provide a convenient, connected cooking experience for the home chef."
GOOD DESIGN® is a registered trademark of The Chicago Athenaeum: Museum of Architecture and Design. The awards were created in 1950 by architects Eero Saarinen, Charles and Ray Eames and Edgar Kaufmann, Jr.
ABOUT DACOR
Founded in 1965, Dacor is a manufacturer of ultra-premium kitchen appliances. Designed and built in California, Dacor's cooking appliances integrate function and technology to create high-performing, intuitive products that reflect the lifestyle and needs of the passionate cook. For nearly 50 years, Dacor has been responsible for many of the innovations that have improved the way people cook in the modern kitchen. Dacor is family-owned and embraces the legacy, heritage and expertise of a third generation to lead the company into a new age of cooking innovation. For more information about Dacor and its products, visit dacor.com.