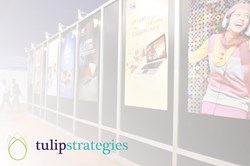 In order to ensure trade show success and guarantee you attract the right target, it is crucial that you connect with attendees prior to the show. - Megann Rundell, Tulip Strategies Founder
Denver and Boulder, CO (PRWEB) January 31, 2014
The Trade Show Ready ™ Package aims to be a comprehensive tool for exhibitors that combine all their efforts into one central place. This exciting new product will provide trade show exhibitors with an analysis of their brand. It will locate influential and worthy trade show events that would be strategically valuable for the exhibitor to attend. A comprehensive Tulip Strategies Trade Show Ready ™ Kit Checklist streamlines and organizes all the myriad of steps an exhibitor must engage in. Swag design - what goes out to prospects (shirts, sunglasses, pens with a brand's logo, etc.) will be provided. Trade Show Ready ™ includes additional benefits such as the design for the show literature, collateral show marketing materials and the overall exhibit design and layout.
"In order to ensure trade show success and guarantee you attract the right target, it is crucial that you connect with attendees prior to the show. Tulip Strategies has developed pre-show marketing tools to create dialogue and buzz prior to the event to allow companies to interact and connect with their target and get them excited to come by and meet during the actual event. Exhibitors get to meet with qualified leads that have already been engaged and offer a much higher probability of closing. Tulip Strategies has tested and refined this product package and is most confident it is the best tool to ensure trade show success," says Megann Rundell, Tulip Strategies Founder.
As a progressive branding firm, Tulip Strategies dedicates itself to providing new and established companies with unique strategies that help boost their brand recognition.
Tulip Strategies, strives for success. Regardless of the challenge, clients can be assured that a powerful solution will be developed for them.
With their motto, "Growing Brands from Seeds to Bloom," Tulip Strategies utilizes specialized experience in Brand Development, Marketing, Public Relations, Social Media and a variety of other creative services such as Web Design and Copywriting to leave strong impressions, contributing to long-lasting clients.
For more about Tulip Strategies, please visit: http://tulipstrategies.com/.
You can also:
Follow us on Twitter: @tulipstrategies
Like us on Facebook: /TulipStrategiesContacts