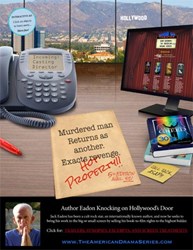 Maybe it isn't so weird that I'd be knocking on Hollywood's door. After all, from being born a super twin to surviving five brain surgeries, to having created a rock album...— I guess uniqueness and persistence is quite a combination.
La Quinta, CA (PRWEB) February 03, 2014
Internationally acclaimed American author Jack Eadon is launching an aggressive Hollywood campaign to sell properties to the highest bidder. The author of the American Drama Series feels it's time to bring his seven books to a new generation of readers in multiple, big cinematic ways.
A Life From Which Movies Are Made
Eadon has lived the kind of life from which movies are made. From being born a super-twin—a 1 in 40,000,000 chance—to being a cult rock star, an author, and the survivor of a brain tumor and five brain surgeries, Jack Eadon has lived a life like few others—a life that would make a perfect biopic.
For the last thirty years, Eadon has been transforming his diverse experiences and multimedia skills—in music, writing, photography, and special effects—into his seven-book American Drama Series. Now he is ready to woo the silver screen with his magnum opus.
Hot Properties for Sale
Nothing could be hotter for Hollywood than a series based on the Seven Deadly Sins—one sin for each title in Eadon's series. A CONSEQUENCE OF GREED's title says it all, while Head Trip is about one super twin seeking to murder the other, and in Lacey's Day, lust turns into generosity and love. Far from formulaic, Eadon's mixed genre novels are filled with drama, coming-of-age stories, romance, corporate intrigue, and the supernatural.
Eadon is now launching an extensive advertising campaign for the sale of his book-to-film rights to lure directors/producers and other media moguls. The campaign includes a full page ad in the Hollywood Reporter during awards season, national press release distribution, a speaking tour, and his newly launched website, http://www.TheAmericanDramaSeries.com, a virtual multiplex for future screen content, complete with character sketches, synopses, elevator pitches, and book trailers. Two titles also have television treatments and there's a mini-series treatment of A CONSEQUENCE OF GREED. Tickets for sale to the highest bidder.
3-D Animated Surprise
A bonus of Eadon's website is a private showing of his new 3-D animated video. One of Eadon's most popular songs for the band Khazad Doom was "Stanley's Visit to Kerkle-Morff" written and recorded in 1971-72. Now it is an animated 12-minute video, with outstanding illustration by Denis Proulx and video production by Chris Hatcher. Eadon will be featuring the video as a private showing at his website before aggressively marketing it to Disney Pixar, Dreamworks Animation, and other studios. A special treat awaits those who review the video for Eadon.
Cinematic Writing
Eadon's novel A CONSEQUENCE OF GREED—celebrating its 30th anniversary with a special fifth edition to be released on April 25, 2014—is prime Hollywood fodder. The plot: Murdered man returns as another; exacts revenge. The characters: dark and tragic, light and comedic, sultry and homespun. The venue: big or small screen, film or miniseries.
Eadon's cinematic writing marks A CONSEQUENCE OF GREED's every scene: James Post's spirit ascends to the heavens in a swirl of colored sparkles, only to have his ghost return to haunt Sheila Hickman. Later, a half-naked Sheila Hickman dramatically taunts a storm of baseball-size hail and vengeful lightning that ultimately electrocutes her. Eadon's recording studio experience—from his days with the cult rock band Khazad Doom to owning a California special effects advertising photography studio—results in a written soundtrack, with such auditory moments as the clunking of James Post's brother's beheading, to the chirping of Texas crickets in the lazy orange Cersicana dusk. This movie, (ahem, book!) is made for the camera.
Persistence Pays Off
The title of Eadon's autobiographical account of his years with the 1970s rock band Khazad Doom, GOT TO MAKE IT!, best describes his present attitude of persistence. "Maybe it isn't so weird that I'd be knocking on Hollywood's door," he said. "After all, from being born a super twin to surviving five brain surgeries, to having created a rock album worth $2,000/copy to collectors—I guess I've been blessed with a little uniqueness and persistence in my life! That's quite a combination."
Interested producers, screenwriters, and media personnel can contact Eadon regarding the film properties for his books by visiting http://www.TheAmericanDramaSeries.com and submitting one of the book project query forms. A forty-eight-hour response is guaranteed. Remember, when it comes to obtaining these hot Hollywood properties, a little greed—by getting to Eadon first—can be a good thing.