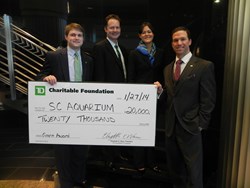 Charleston, S.C. (PRWEB) January 30, 2014
The TD Charitable Foundation, the charitable giving arm of TD Bank, America's Most Convenient Bank®, recently gave a grant totaling $20,000 to the South Carolina Aquarium in Charleston. The grant is part of the Foundation's commitment to give back to the local community and will help fund the South Carolina Aquarium Structured School Program.
The grant supports the Structured School Program, which the Aquarium provides to teachers and students of South Carolina free of charge. The interactive, hands-on programs are based on statewide K-12 curriculum standards and focus on South Carolina's science concepts including habitats, animal adaptations, watersheds, regions of the state, and conservation. The funding will make it possible for the Aquarium to provide free admission and a private classroom experience to students from schools across the state, the majority of which are Title I schools where students would not typically be afforded experience-based learning opportunities.
"Schoolchildren from around the state will have the opportunity to gain a powerful understanding of the natural world in our informal classroom setting," said Kevin Mills, Aquarium president and CEO. "We're grateful for TD Charitable Foundation's support of this program, supplementing STEM education initiatives that align with state standards."
A staunch commitment to active involvement in the local community is a vital element of the TD Bank philosophy. TD Bank, America's Most Convenient Bank® and the TD Charitable Foundation provide financial and other support to affordable housing initiatives, financial literacy and education and the environment, many of which focus on improving the welfare of children and families.
For all media inquiries, please contact Kate Dittloff at (843) 579-8660 or kdittloff(at)scaquarium(dot)org.
About the South Carolina Aquarium:
The South Carolina Aquarium, Charleston's most visited attraction, features thousands of amazing aquatic animals from river otters and sharks to loggerhead turtles in more than 60 exhibits representing the rich biodiversity of South Carolina from the mountains to the sea. Dedicated to promoting education and conservation, the Aquarium also presents fabulous views of Charleston harbor and interactive exhibits and programs for visitors of all ages.
The South Carolina Aquarium, a 501(c)(3) not-for-profit organization and is open Daily from 9 a.m. to 5 p.m. The Aquarium is closed Thanksgiving Day, half day Dec. 24 (open 9 a.m. to 1 p.m.) and Dec. 25. Admission prices are: Toddler's (3 and under) free; Youth (4-12) $14.95; Adults (13+) $24.95. The Aquarium plus the 4-D Theater experience is free for Toddler's, $19.95 for Children, $29.95 for Adults. The 4-D Theater experience only is $6.95 for Children and adults, and free for Members. For more information call 843-720-1990 or visit scaquarium.org. Memberships are available by calling 843-577-FISH.
About the TD Charitable Foundation
The TD Charitable Foundation is the charitable giving arm of TD Bank N.A., which operates as TD Bank, America's Most Convenient Bank®, and is one of the 10 largest commercial banking organizations in the United States. The Foundation's mission is to serve the individuals, families and businesses in all the communities where TD Bank operates, having made $116 million in charitable donations since its inception in 2002. The Foundation's areas of focus are affordable housing, financial literacy and education, and the environment. More information on the TD Charitable Foundation, including an online grant application, is available at http://www.TDBank.com.
About TD Bank, America's Most Convenient Bank®
TD Bank, America's Most Convenient Bank, is one of the 10 largest banks in the U.S., providing more than 8 million customers with a full range of retail, small business and commercial banking products and services at approximately 1,300 convenient locations throughout the Northeast, Mid-Atlantic, Metro D.C., the Carolinas and Florida. In addition, TD Bank and its subsidiaries offer customized private banking and wealth management services through TD Wealth®, and vehicle financing and dealer commercial services through TD Auto Finance. TD Bank is headquartered in Cherry Hill, N.J. To learn more, visit http://www.tdbank.com. Find TD Bank on Facebook at http://www.facebook.com/TDBank and on Twitter at http://www.twitter.com/TDBank_US.
TD Bank, America's Most Convenient Bank, is a member of TD Bank Group and a subsidiary of The Toronto-Dominion Bank of Toronto, Canada, a top 10 financial services company in North America. The Toronto-Dominion Bank trades on the New York and Toronto stock exchanges under the ticker symbol "TD." To learn more, visit http://www.td.com.
###