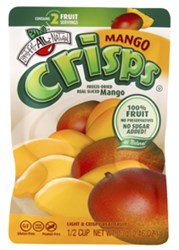 Fruit Crisps are 100% real fruit; peeled, sliced, and gently freeze-dried; made with no added sugars, preservatives, or fats
Rochester, NY (PRWEB) February 03, 2014
Brothers-All-Natural continues to expand by releasing another new product to their line of freeze-dried Fruit Crisps. Fruit Crisps have been a preferred healthy snack among both children and adults for many years. With the addition of the new Mango Fruit Crisps, there are now 12 different varieties of Fruit Crisps offered. Mango is one of the most popular tropical fruits due to its taste and nutritional benefits. The Mango Fruit Crisps are currently available for pre-order and will begin shipping Feb. 17, 2014.
Unlike some dried fruits, Fruit Crisps are 100% real fruit; peeled, sliced, and gently freeze-dried; made with no added sugars, preservatives, or fats. These freeze-dried fruit snacks retain virtually all of the nutrition of the fresh fruit, including all natural components. Mango, being rich in vitamin A, vitamin C, and antioxidants, is a nutritional snack option. Since the Fruit Crisps have the same nutrition as their fresh counterparts, Fruit Crisps are an excellent substitution because they are more convenient, have a unique texture, and designed for on-the-go snacking.
Brothers-All-Natural Fruit Crisps are also a preferred snack for weight loss, containing less than 80 calories per bag. They are also a safe snack for those with food allergies. Each snack-sized pouch is portioned to contain two full servings of fruit. Additionally, all varieties of Brothers-All-Natural Fruit Crisps are gluten free, soy free, peanut/tree nut free, non GMO, vegan and OU Kosher certified.
About Brothers-All-Natural
Brothers-All-Natural is the market leader in freeze-dried fruit snacks, producing their award winning Fruit Crisps. Made with 100% fruit and containing no additives, preservatives or added sugar, Brothers-All-Natural Fruit Crisps have become the Healthy Snack of choice for millions of health-conscious consumers. For more information about Brothers-All-Natural® Fruit Crisps or other products, please visit their website at brothersallnatural.com
About Brothers International Food Corporation
Brothers International Food Corporation is a privately owned food and beverage company based in New York with offices in North Carolina, China and Ecuador. The company was founded in 2001 by brothers Matt and Travis Betters, whose family was involved in the processed fruit and vegetable industry for more than 65 years. In addition to supplying top-quality fruit and fruit juice concentrates to a number of Fortune 100 food companies, Brothers International is the parent company of Brothers-All-Natural, producing all-natural 100% fruit that is freeze-dried, as well as Fruit & Oats, and Lost Vineyards, importing low-cost wines from little-known vineyards in Europe and South America.