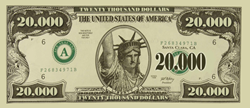 We're off to a great season. We had a record setting reception in Novi last weekend and over 250 people entered our giveaway! - Kelly Anderson - Home Show Manager for AMR
Flint, Michigan (PRWEB) January 31, 2014
American Metal Roofs (AMR) of Flint, Michigan is excited to announce their home show schedule for 2014.
Their expanded home show schedule this year consists of over 20 stops throughout the state.
"We're off to a great season. We had a record setting reception in Novi last weekend and over 250 people entered our giveaway! - Kelly Anderson - Home Show Manager for AMR
These homes shows are ideal for those people planning to improve their homes with the best products, services and technology available in today's marketplace. People interested in metal roofing solutions will see pictures and samples of products and materials and have the opportunity to have all of their questions answered.
This year AMR is offering attendees a chance to win a $20,000 American Metal Roof for their home in the 2014 Roof Giveaway.
Please click on the following link to see the list of upcoming home shows:
http://www.americanmetalroofs.com/Events.aspx