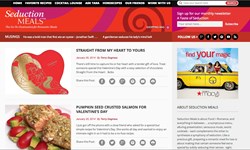 Everyday is Valentine's Day at SeductionMeals.com, said founder Terry Dagrosa, But in February our editorial team goes into overdrive assembling the best recipes, enchanting gift ideas and tips on how to curate the ultimate evening of food and romance.
New York, NY (PRWEB) February 04, 2014
SeductionMeals.com will celebrate this Valentine's Day with 11 days of Food and Romance from February 4th to February 14th. The Seduction Meals editorial staff has assembled a scintillating collection of recipes, gifts, music and more to make your upcoming Valentine's Day a deliciously memorable occasion.
2014 Valentine's Day features include:

Seductive Recipes: Savory home-cooked meals such as Beef Wellington, Scallops with Golden Raisin Puree, Lobster Newburg and more.
Red Hot Gifts: An enticing collection of enchanting gifts that will make your lover swoon with delight.
Chocolate Seduction: This year's top assortment of chocolate gifts that will surely melt hearts.
Sexy Music: Sultry tunes and playlists to set the tone for a very romantic occasion.
Luscious Libations: Exotic cocktails such as Le Fizz, La Poire Pear and Va Va Vinil.
Romantic Travel: Auberge du Soleil the luxurious 5-star Napa Valley resort and the ultimate destination for a romantic soiree.
Valentine's Day Tips: Provocative ideas to spice things up in the kitchen and beyond.
Emergency V-Day Hotline: And for all the procrastinators (you know who you are) there are sexy tips and ideas to help save the day.
This Valentine's Day yield to your inner cupid and join SeductionMeals.com for an unabashed adventure of food, romance and love. A be sure to follow Seduction Meals on Pinterest, Twitter, Facebook and Google+.
# # #
About Seduction Meals
Seduction Meals and its trademark are owned and operated by Tara del Mar Productions, a New York Corporation.
Seduction Meals is about Food + Romance, and everything in-between … a sumptuous menu, alluring presentation, sensuous music, exotic cocktails – each complements the others to synthesize a symphony of seduction. Like a precious gift, preparing a romantic meal for two is about making that certain someone feel extra special by subtly seducing their senses - sight, sound, smell, taste, touch - and, of course, emotion, with just the right combination of ambience and culinary delights. With a bit of effort and savoir-faire, you too can create a memorable, deliciously sensual experience with your objet d'amour.