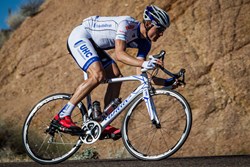 High performance teams need high performance socks.
Brentwood, TN (PRWEB) February 03, 2014
Swiftwick, a leading U.S. producer of athletic compression socks, is proud to be the official sock of the 2014 UnitedHealthcare Pro Cycling Team. The company is outfitting both the men and women with its VISION sock customized to fit UnitedHealthcare's striking blue and white uniforms.
"High performance teams need high performance socks. Swiftwick's commitment to technology and results attracts the best athletes and teams in the world like the UnitedHealthcare Cycling Team," said Mark A. Cleveland, CEO and co-founder of Swiftwick. "We originally created and tested our socks in cycling because it is one of the most demanding endurance sports, and a sub-par sock just doesn't cut it. Swiftwick supports athletes in all sports and of all levels, and we are proud to be the official sock of the UnitedHealthcare Pro Cycling Team."
The relationship between UnitedHealthcare's Pro Cycling Team and Swiftwick began when the team's owner tried a pair of socks for himself.
"During the first day of Interbike I received a pair of Swiftwick socks to wear on day two," said Theirry Attias, owner and operator of the UnitedHealthcare Pro Cycling Team and president and co-owner of Momentum Sports Group. "It was unbelievable how much better I felt at the end of the second day. There's no comparison. Swiftwick made a world of a difference and I'm definitely a believer."
The lightweight cycling socks the team is wearing are manufactured using Olefin fibers that retain less than 0.1 percent of its weight in moisture, making the sock dry and comfortable for riding in intense competitions. The compression sock resists deterioration from chemicals and perspiration providing cyclists with the long-lasting durability they need.
Both the men and women of the UnitedHealthcare team have already earned multiple victories in big races this season. The men's team has secured wild card invites to two WorldTour races, while the women's team won two stages and the overall at the inaugural women's edition of the Tour Femenino de San Luis. The UnitedHealthcare team has recently been accepted into the Milan San Remo, one of the biggest European races of the year.
About Swiftwick
Founded in 2008, Swiftwick is headquartered in Brentwood, Tenn. The company is a performance sock manufacturer that proudly employs an American workforce in high-quality textile manufacturing. Swiftwick is an innovator in designing and producing superior socks. The company has a culture focused on manufacturing through environmentally friendly means, social responsibility and leading customer service. Learn more at http://www.swiftwick.com.
About UnitedHealthcare
UnitedHealthcare is dedicated to helping people nationwide live healthier lives by simplifying the health care experience, meeting consumer health and wellness needs, and sustaining trusted relationships with care providers. The company offers the full spectrum of health benefit programs for individuals, employers and Medicare and Medicaid beneficiaries, and contracts directly with 780,000 physicians and other health care professionals and 5,900 hospitals and other care facilities nationwide. UnitedHealthcare serves more than 40 million people in health benefits and is one of the businesses of UnitedHealth Group, a diversified Fortune 50 health and well-being company.