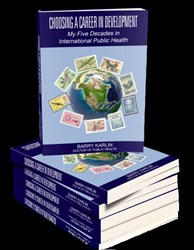 Join other MIDEGO authors, Barry Karlin and Divya Selvakumar, on the growing list of people who are publishing their stories, expertise, and advice to help others, and reach their goals of making a big difference in global health!
Fairfax, VA (PRWEB) January 31, 2014
Based on workshops held in Fairfax, VA, Global Health Leader Dr. Elvira Beracochea of MIDEGO, Inc. is launching the online course due to popular demand so that people everywhere can get help starting the book they always wanted to write. The next online session will be February 15-16, and others will follow later in the year. Registration and program information is at http://www.midego.com/write-a-global-health-book-in-a-weekend-program.
The "Write a Book in a Weekend" program is designed for any development or health professional who ever thought of writing a book. The program is designed to get authors organized, motivated and on-track. Topics address include:
1. Collecting ideas and determining the kind of book to write.
2. Deciding what goes in and what stays out.
3. Organizing time and scheduling a realistic plan of action to write.
4. Strategic editing of initial drafts.
5. Developing marketing strategies.
6. Exploring production possibilities.
MIDEGO Inc, through its publishing division, works to affect change in the lives of others by promoting the sharing of expertise, experiences, and advice of global health experts to others. In doing so, MIDEGO aims to help others achieve more, and make global health more efficient and effective.
About MIDEGO
Founded in 2005, MIDEGO is a well-established global health consulting company, specialized in professional and organizational effectiveness in the health sector. MIDEGO's mission is to help countries exceed the Millennium Development Goals, hence the name of the company. MIDEGO helps clients improve how they work and save more lives while advancing in their careers. MIDEGO also works with partners to create and implement effective and efficient organizational health development strategies that are led by empowered local leaders. MIDEGO's online training and coaching programs help health professionals realize their career mission by leading the kind of changes they know they need to bring about in their countries. Find out more at http://www.midego.com.