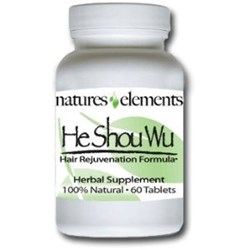 After taking He Shou Wu for a month my hair started growing again on spots where it was only falling out for over 5 years.
Lindenhurst, NY (PRWEB) January 31, 2014
While many experience the reverse of their gray hair back to its natural color, all is not lost for those who do not, because He Shou Wu provides anti-aging and longevity benefits for the whole body. It starts by nourishing the blood which in turn tonifies the liver and kidneys, which helps to reduce cholesterol levels. It fortifies the tendons, muscles and bones thereby strengthening the lower back and knees. He Shou Wu contains Zinc which holds antioxidant properties and immune system support. He Shou Wu has been known to provide healthy levels of superoxide dismutase (SOD), a powerful antioxidant. It also contains Iron which is why He Shou Wu is attributed to have many benefits for the blood and circulation.
He Shou Wu is a Jing (Essence) Tonic
Traditional Chinese Medicine (TCM) believes that all health obstacles are caused by imbalances within our bodies. Problems can occur when an excess amount of moisture, heat, dryness, cold, toxins, phlegm or stagnation build up. This can cause an unbalanced or shortness of vital energies known as the three Treasures: Qi (Vitality), Shen (Spirit) and Jing (Essence). Good health is only achieved when the body is considered to be in perfect balance. He Shou Wu is a Jing Tonic widely known for helping to prevent premature aging. He Shou Wu is an extraordinary herb for the liver and kidneys, and fortifying the ligaments tendons and bones.
He Shou Wu as an Extract
There are many companies out there selling He Shou Wu so it is important to know what to look for when buying He Shou Wu. First step is to examine the label and determine what the potency is of the He Shou Wu. A higher extract ratio means a stronger concentration. This is important to determine if the proper dosage is being provided. For example Natures Elements provides a 12:1 extract ratio of the He Shou Wu Root which means it is approximately 12 times stronger than a non extracted powder, similarly if compared to a 4:1 extract it would be 3 times stronger.
He Shou Wu Dosages
The concentration is important when determining proper dosages. In order to reap the benefits of He Shou Wu a sufficient dosage needs to be consumed. This is where the benefit of an extract is useful. Natures Elements dosage is 1,000 mg of 12:1 extract of He Shou Wu which is contained in two small easy to swallow tablets. In order to get this dosage from a non extracted powder one would need to consume 3 or more tablets 3 times a day! Most people would find it difficult to keep up with such dosages throughout the day often leading to missed dosages and therefore little or no results. By keeping the dosage concentrated and in only one serving per day it is much easier maintain consistent usage.
Another element to consider when shopping for He Shou Wu is how long each bottle will last. It is easy to determine that with 2 tablets per day, 60 tablets will last for a full 30 day month. As compared to products that seem to be offering more because they contain 100 tablets. However if the serving size is 3 tablets 3 times a day a 100 tablet bottle will not even last for 2 weeks.
He Shou Wu Safety & Precautions
Before starting any dietary regiment one should always consult with a qualified health care professional. He Shou Wu is generally considered to be a safe herb, but should not be used by anyone with illness, liver or kidney problems, frequent use of alcohol or taking any medications as well as pregnant or lactating women.