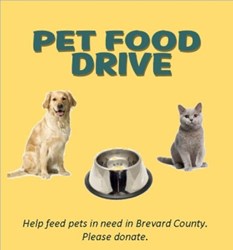 Merritt Island, Florida (PRWEB) January 30, 2014
Many pet owners in Brevard have to struggle to make ends meet right now and sometimes they cannot afford to purchase their pet's food. Grace United Methodist Church has partnered with the SPCA to help ease this burden for local families with pets. They are requesting donations of dog and cat food (preferably dry) to distribute to families in need.
Donations for dog and cat food can be taken to the SPCA Thrift Store located at 685 N. Courtenay Parkway (across from the bowling alley) or to Grace United Methodist Church at 65 Needle Boulevard (behind Checkers on Courtenay) in Merritt Island.
Pet food is needed by Friday, February 6th and will be distributed to families in need on Saturday, February 8th at the Grace Saturday Country Store, located at GUMC, from 9am-12 noon. Contact Warren McKee at 321-749-1227 for more information.
###
About SPCA of Brevard
The SPCA of Brevard is a private, non-profit organization with the mission of "protecting and providing a voice to the homeless animals of Brevard County." Founded in 1979 in Titusville, Florida, the SPCA is the largest private no-kill animal rescue group in Brevard, finding homes for more than 1,300 animals a year. It is the first adoption facility with free-roaming cat rooms in the County, allowing adopters to interact with the cats in a more home-like setting. The SPCA of Brevard Clinic also provides reduced-price vaccines to the public and has performed more than 50,000 low-cost spay/neuter surgeries since 1999.
For more information, visit http://www.spcabrevard.com.