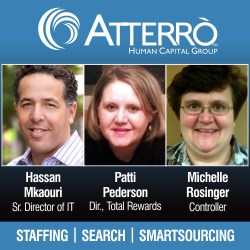 I congratulate Hassan, Patti and Michelle on their well-deserved promotions. Their long service at Atterro and their dedication to our associates, talent and customers is remarkable. - Teri Calderon, Atterro's SVP, Human Resources
Minneapolis, MN (PRWEB) January 31, 2014
Atterro Human Capital Group proudly announces the promotions of three top contributors to its success: Hassan Mkaouri to Senior Director of IT; Patti Pederson to Director, Total Rewards; and Michelle Rosinger to Controller, effective immediately.
Mr. Mkaouri has held several important Information Technology positions during his 16 years with Atterro and has led the IT team for the past 4.5 years, as its Director. His most significant recent accomplishment has been the expansion of the company's system capabilities and capacity, while making significant cost improvements. In his new role as Senior Director, Mr. Mkaouri will lead his team to complete the implementation of a new tool for recruiters – considered a game changer for the organization.
Ms. Pederson has worked for Atterro in increasing roles of responsibility for more than 13+ years. She manages benefits and compensation in Human Resources, and also oversees activities in the Payroll/Billing area. These responsibilities are especially complex in a staffing organization that has multiple benefits packages and various processes for paying talent. This year, Ms. Pederson and her benefits team will address the employer mandate requirements of the Affordable Care Act (ACA); and her payroll team will focus on process improvement.
Ms. Rosinger has held a steady progression of positions in Finance and Accounting, during 18 years at Atterro. In her new role as Controller, she is responsible for financial reporting, the annual audit, income taxes and other matters of finance and compliance. Under her leadership, the accounting team (which did not increase in size while the company grew 40% during the past two years) shortened its financial closing process by several days to provide more timely and accurate information to business managers. In 2013, Ms. Rosinger played an instrumental role in the financial due diligence and transition effort required by the Technical ProSource acquisition.
Mike Kennedy, Chief Financial Officer at Atterro, said, "We are fortunate to have people such as Hassan, Patti and Michelle, leading these vital functions for our organization. Every day, they demonstrate the knowledge, commitment and professionalism that makes outstanding leaders." He added, "Each of them has been key to Atterro's continuing growth and success and I'm sure we'll see more great things from them in the future."
"I congratulate Hassan, Patti and Michelle on their well-deserved promotions," commented Teri Calderon, Atterro's Senior Vice President of Human Resources. "Their long service at Atterro and their dedication to our associates, talent and customers is remarkable. I don't think we'd be where we are today without them."
Atterro Human Capital Group offers interim staffing, search and SmartSourcing services to local, regional and national customers. Atterro's experienced industry professionals utilize the latest research, recruiting technology and assessment tools to serve clients through its six specialty brands—Blue Edge RPO for Recruitment Process Outsourcing, Digital People for Creative, Interactive and Marketing, Hunter Hamilton for Finance and Accounting, Pro Staff for Administrative and Light Industrial, Technical ProSource for Information Technology, and Ware Technology Services for Engineering. Visit http://www.atterro.com.
Contact:
Susan Rylance
SVP Marketing
email: Susan(dot)Rylance(at)atterro(dot)com
ph. 612‐373‐2600
Atterro Human Capital Group
651 Nicollet Mall, Suite 525
Minneapolis, MN 55402
http://www.atterro.com